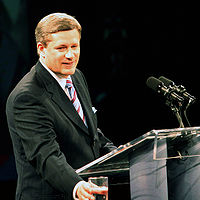 Today Liberal Members of Parliament and candidates gathered to draw attention to the impacts of the Harper Government's cuts to local settlement services. In December, the Harper Government cut $53 million dollars from programs that offer support and integration services for new Canadians.
"Despite the Harper Government's attempt to muzzle the affected organizations, we have been able to confirm that over $2.5 million was cut in the Region of Peel alone," said Liberal MP Navdeep Bains. "We've heard stories of entire programs being shut down and others are struggling to make ends meet."

Funding for settlement services are provided through Citizenship and Immigration Canada, these services offer new Canadians information about how to access essential services and adjust to life in Canada.
"The government keeps looking for ways to pay off their unprecedented $56 billion deficit," said Liberal MP Bonnie Crombie. "The Conservatives need to look elsewhere for this money. Settlement services provide essential programs, especially in the GTA and the Liberal Party will do whatever it can to maintain their funding."
While the Harper Government cut $53 million for its national grants program, 81% of these cuts were made to programs in Ontario, with most of those made in the Greater Toronto Area despite the fact that this where the majority of immigrants choose to live.
"The decision by the Government to cut funding for essential services for newcomers will hurt many families in my riding of Brampton Springdale," said Liberal MP Ruby Dhalla." "The Conservative Government should support new Canadians instead of cutting funding and services and leaving people out in the cold."
Shortly after announcing how the cuts will affect Toronto, Liberal MP Gerard Kennedy launched FAIR START– Let New Canadians Succeed, a campaign to counter the devastating Conservative cuts to services that help new Canadians become self reliant. In its first few days the campaign has grown with hundreds of people directly affected by the cuts joining together to show support for the cause.
"Conservative cuts to services for new Canadians to become self-reliant are an attack on Canada's future labour force that will support our economy for many years to come," said Liberal MP Gurbax Malhi, "Therefore, Fair Start – Let New Canadians Succeed is a necessary campaign to secure Canada's future and help immigrants to integrate."
"As the Member of Parliament for Brampton West, I demand that the Harper Conservatives reverse their recent decision to hurt new Canadians by eliminating millions of dollars for settlement services," said Liberal MP Andrew Kania. "Since their election in 2006, the Harper Conservatives have shown that they simply do not care about new Canadians. After taking office, they reneged on the $200 million promised by the previous Liberal government. Now, to add to the damage, over the 2010 Christmas holidays when Canadians were celebrating with their families, they quietly cut a further $53 million earmarked for settlement agencies: money needed to help some of Canada`s poorest and most vulnerable residents. This callous form of governance is simply unacceptable."
"These mean spirited cuts reveal much about Mr. Harper's values especially when he is choosing to give $6 billion in tax cuts to large profitable corporations," said Liberal candidate Omar Alghabra. "These settlement organizations provide essential services to facilitate successful economic and social integration of new Canadians"