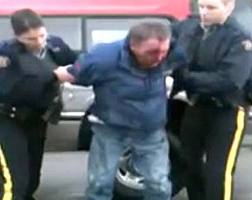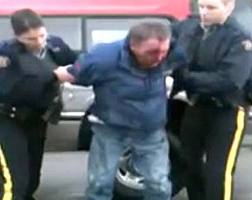 Buddy Tavares, the Kelowna man at the centre of a controversial take-down by RCMP is a free man after the Crown has dropped all charges against him.
On January 7, 2011, the RCMP responded to a call of man, supposedly involved in a domestic dispute, at a golf course shooting a shotgun. They stopped Tavares and ordered him out of his vehicle and to get on the ground. As Tavares was getting down onto the pavement, RCMP Const. Geoff Mantler kicked Tavares right in the face. Unbeknownst to Mantler, Kelowna journalist Kelly Hayes of Castanet Media videotaped the entire incident using his cellphone. That clip posted on YouTube created a firestorm about police brutality and resulted in Mantler being suspended with pay pending an investigation. (see Oye! Times, Jan 17/2011: Anger builds over Mountie's beating of a man, Kelowna with video)
Tavares ended up having to spend the weekend in jail on suspicion of careless use of a firearm. However, it finally came out that Tavares did do part-time work at the golf course as a groundskeeper and that included using a shotgun on occasion to scare away geese.
On the recommendation of Crown counsel, charges against Buddy Tavares were dropped. However, the Crown did feel there was a reasonable basis to seek a firearms prohibition and Tavares must give up his gun for 18 months.
On Monday, RCMP Deputy Commissioner Peter Hourihan paid a visit to Tavares at his Kelowna home and apologized on behalf of the RCMP for the incident that took place on Jan. 7.
The fate of Const. Mantler still remains unknown. The Abbotsford Police Department investigated his actions and recommended that Mantler be charged with one count of assault causing bodily harm. Mantler is still on paid leave and whether Mantler is charged is up to the Kamloops regional Crown counsel.
Castanet News – Feb 21/2011
Tavares Cleared
Charges of careless use of a firearm against Buddy Tavares of Kelowna have been dropped. Tavares was kicked in the face by a police officer during his arrest — an act that was caught on tape by Castanet. Kelly Hayes reports.
YouTube: Kelowna RCMP Police Brutality Investigation
This is the original video clip posted on January 8, the day after the incident. It was shot by Kelly Hayes, a Kelowna journalist who just happened to be driving by and stopped.
Click HERE to read more from William Belle
Article viewed at: Oye! Times at www.oyetimes.com