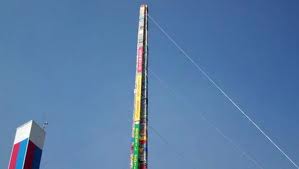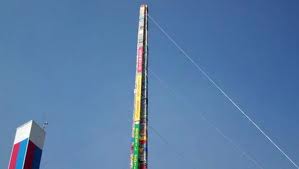 Brazil has taken the crown from Chile and just built the world's largest Lego tower. At a height of 31.19 meters (102 feet, 3 inches), the tower in the city of Sao Paulo surpasses the previous record set in Santiago, Chile, in 2008 by 25 centimetres.
Most of the half a million Lego's it took to build the tower were assembled by 6,000 people which included mostly Brazilian children. A crane was used by volunteers to stack the Lego pieces into a tower. The parking lot of a Brazilian mall was the chosen site of construction where it is expected to attract both tourists and shoppers.
How high is 102 feet? It's about 10 stories or a few feet higher than the Lincoln Memorial building n Washington, D.C.
The first Lego tower rising to a height of 15 metres (just under 50 feet), was built in London in 1988. Since then 53 cities in more than 30 countries have built towers.
crowsonatv – Apr 10/2011
Kids Build World's Tallest Lego Tower In Brazil
Thousands of children in Brazil have built what organisers say is the world's tallest Lego tower – with a bit of help from parents and a crane. Organisers say the tower, which was made with 500,000 pieces and measured over 102ft, beat a previous record held in Chile.
http://www.youtube.com/watch?v=qvRIcASivqQ
References
Wikipedia: Lego
Lego (trademarked in capitals as LEGO) is a line of construction toys manufactured by the Lego Group, a privately held company based in Billund, Denmark. The company's flagship product, Lego, consists of colorful interlocking plastic bricks and an accompanying array of gears, minifigures and various other parts. Lego bricks can be assembled and connected in many ways, to construct such objects as vehicles, buildings, and even working robots. Anything constructed can then be taken apart again, and the pieces used to make other objects. The toys were originally designed in the 1940s in Europe and have achieved an international appeal, with an extensive subculture that supports Lego movies, games, video games, competitions, and four Lego themed amusement parks.
Wikipedia: Lego Universe
LEGO Universe is a massively multiplayer online game developed by NetDevil.
official web site: Lego
official web site: Lego Universe
Click HERE to read more from William Belle
Article viewed at: Oye! Times at www.oyetimes.com