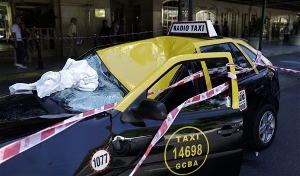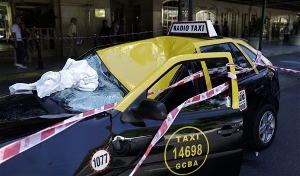 On Monday a woman threw herself from a restaurant on the 23rd-floor of a Buenos Aires hotel and miraculously survived. By sheer luck, she fell onto the roof on a parked taxi cab but came down partly on her back. A picture shows that the force of her fall shattered the windshield and pushed in the roof leaving her in a seated position. If she had come down head first, obviously the results would have been completely different.
The woman was rushed to hospital where she underwent emergency surgery. Reports say that she had fractured ribs, two broken hips and was bleeding internally and it is not confirmed that doctors may have removed a lung, a kidney and her spleen.
Winesses have come forward from the Panamericano Hotel who were at the 2rd story restaurant when the woman arrived. According to the story, she calmly ordered a coffee, left her purse then took off her shoes, climbed over the safety barrier and jumped.
The shocked driver of the taxi cab was interviewed by reporters and told how he noticed a police officer looking up and followed his glance. He saw the woman falling and jumped out of his cab only moments before the woman hit it. He described how the impact of the body caved in the roof of the car and said if he had still been in the car, he would have been killed.
It was estimated the woman fell 330 feet (100 metres).

Click HERE to read more from William Belle.