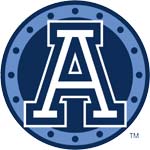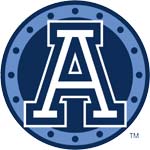 The Toronto Argonauts Football Club is pleased to welcome back hard-hitting, import linebacker Greg Blue and introduce big, speedy, import receiver Eric McCain
Greg Blue attended 2010 Argonauts training camp and the smash-mouth YouTube highlights fans were treated to before his arrival were even more impressive in person. The tough linebacker from Georgia was a fifth round draft pick of the Minnesota Vikings in 2006. He dressed for all of Minnesota's 16 games as a rookie, played on special teams, and recorded 14 tackles. Blue also suited up for four games with the NFL's Detroit Lions in 2007. The Georgia University product didn't miss a game while playing college football for the Bulldogs. In his final two seasons, he recorded 156 tackles, three forced fumbles and two interceptions. As a senior, he earned All-SEC honours and was named First-Team All-American.
http://www.youtube.com/watch?v=QzowiTndq7s
Eric McCain is a 6-foot, 6-inch receiver who has speed to burn. He was crowned a National Junior College Football champion in 2005 and was twice named First-Team All-Conference in his two seasons at Glendale C.C. McCain later helped the Indoor Football League's Billings Outlaws to their first league championship in 2009 and gained CFL experience when he attended B.C. Lions training camp the same year.
Greg Blue
Linebacker
6'2", 228 lbs.
Georgia
Born: March 12, 1982
Atlanta, Georgia
1st year Argos/ 1st year CFL
Import
Acquired: Signed as a free agent with Toronto on January 24, 2011.
2010: Signed as a free agent with Toronto on April 6…Attended training camp with Toronto and was released on June 6.
2009: Did not play football.
2008: Attended training camp with the Detroit Lions and was released as a final cut.
2007: Attended training camp and released by the Minnesota Vikings as a final cut…Signed as a free agent with the Detroit Lions on November 19…Dressed in four games and had 9 tackles and a pass knock down.
2006: Selected in the fifth round of the NFL Draft by the Minnesota Vikings…Dressed in all 16 games, mostly on special teams…Recorded 14 tackles (12 solo) on the season.
College: Played four years at the University of Georgia (2002-05) and did not miss a game…Played the Rover position (safety/defensive back) in Georgia's defence…In his final two seasons with the Bulldogs, he recorded 156 tackles, 134 solo tackles, 7.5 tackles for a loss, 11 quarterback pressures, three forced fumbles, two fumble recoveries, two interceptions and eight deflected passes…As a senior, he earned All-SEC honors and was an All-American First-team selection.
Personal: Greg is the father of twin infant boys, Shaun & Christian. He's from Georgia but lives in Minnesota in the off-season. He enjoys bowling, watching movies and spending time with his sons. In high school, Greg was named all-state in football and basketball.
Eric McCain
Receiver
6'6", 215 lbs.
Glendale C.C.
Born: January 23, 1986
Flagstaff, Arizona
1st Year Argos/1st Year CFL
Import
Acquired: Signed with Toronto as a free agent on January 24, 2011.
2010: Signed with the Utah Blaze (AFL).
2009: Signed with the B.C. Lions on April 8 and released…Signed with the Billings Outlaws of the Indoor Football League…Helped Billings capture its first-ever IFL Championship with 4 catches for 46 yards and 2 touchdowns in the final game.
2008: Signed with the Quad City Street Wheelers as a walk-on and attended training camp.
2007: Did not play football.
College: Played two seasons and Glendale Community College (2004-05)…2006 Redshirt due to academic reasons…2005 ALL-WSFL First Team Wide Receiver Honours…Started all 11 games and had 49 catches for 933 yards and 11 touchdowns…Helped lead team to undefeated season and 2005 NJCAA National Football Championship…Voted game MVP…Started in Valley of the Sun Bowl and caught six passes for 177 yards and one touchdown….2004 Started 6 games and earned ALL-WSFL First Team Wide Receiver Honours as a freshman.
Personal: Eric has a three-year old daughter. He attended Coconino High School in Florida where he was a football and basketball star and earned All-Region and All-State honours as a receiver.