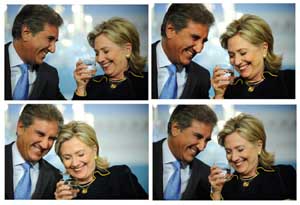 Narcissism – Inordinate fascination with oneself; excessive self-love; vanity. Psychoanalysis . erotic gratification derived from admiration of one's own physical or mental attributes, being a normal condition at the infantile level of personality development. Vanity – The quality or condition of being vain, Excessive pride in one's appearance or accomplishments; conceit. See Synonyms at conceit, Lack of usefulness, worth, or effect; worthlessness, Something that is vain, futile, or worthless, Something about which one is vain or conceited. A Personality Disorder where you have a abnormal disire for ones self, where you lack empathy, and unconscious inadequency of self esteem, due to regression of child development. also a delusion that you are more important than everyone else.
Former foreign minister, Shah Mehmood Qureshi Saturday stressed that only an unblemished leadership could salvage Pakistan and that foundation for lasting ties with the US will have to be re-laid but with heads held high not down, Geo News reported. "What is greatly needed today is for us to change the way we think," Shah Mehmood Qureshi said while addressing a big public meeting in his ancestral city Multan, for the first time after opting out of the new cabinet. He said US Secretary of State Hillary Clinton had described US relations with Pakistan as strained and question the basis of these ties which, he said, were crushed to the ground by a single event. "Shah Mehmood is a sepoy of Zulfiqar Ali Bhutto and brother of Benazhir Bhutto," he said amid vociferous slogans, adding, 'I swear to Maula I have no hunger for power'. The former foreign minister said his hands are clean and that his transparent character was reflective of this fact. "I present myself before the public's accountability court." He went on to say, "Shah Mehmood is not for sale and with his present stance (on Raymond Davis issue) he has also given a clear message that Shah Mehmood can't be forced to bow down." Qureshi said he was not the son of landlord but of a man of a humble origin. "We can't find people of clean character in the cabinet of 40-50 members," he said, adding, 'we have good people around us all we need is an eye that can spot them.' The time has come, he said, to learn 'how to stand on our own two feet.' He asked the crowd whether 'we should trade our dignity.'
REFERENCE: Only spotless leadership can salvage Pakistan: Qureshi Updated at 2115 PST Saturday, February 19, 2011

http://thenews.com.pk/NewsDetail.aspx?ID=11413
Click HERE to read the rest of the story.
Article viewed at: Oye! Times at www.oyetimes.com