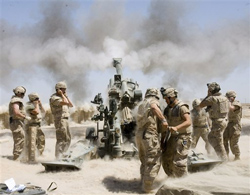 I am cold, wet, hungry and tired. The lack of sleep weighs on my eyelids but I can't sleep. I look up in the night sky and I can see all the stars bright and sharp. Every few minutes a howitzer fires and I plug my ears with my fingers just before I know they are firing, but sometimes I am too late. I walk the area and check on the perimeter guards; the weight of my equipment makes my shoulders soar. I think to myself "what am I doing here?" I have had many nights out in the field, deployed with the Canadian Army where this thought has crossed my mind, but when morning comes I couldn't imagine not doing this and enjoy every moment. It has become an important part of my life now after close to 10 years. I am a soldier in the Canadian Army Primary Reserve and am of South Asian descent. When I first joined the Forces 10 years ago there where only a small handful of South Asians in the Reserves and Regular Force, but as of the past few years this is changing in the Reserve Force at least.
I can remember the first time I learned of the Army Reserve in 2001. I was in the later years of university and my friend spoke of his experiences with the Reserves as a Medic. This interested me greatly and I asked for more information: he told me that the Reserves are a part of the Canadian Forces and is made up of many units across Canada where you enroll as a soldier while still keeping your full time civilian job, or stay in school. The Reserve units have training nights (referred to as 'parade nights') once a week and deploy to training bases to practice their soldier and fighting skills about once a month. Full time training courses take place over the summer which coincides with the schools' summer vacation. While in the Reserves I completed school, worked at a civilian job and volunteered for a position with the Regular Force to deploy to Afghanistan, where I am now.
My family has been involved in some form of military service for many generations in India. I was always brought up with that knowledge and the pride of military service to one's country was not lost on me. I felt that I could make a contribution to the military and with my service there could be no question as to the loyalty of a first generation child of immigrants. I enjoyed hard work and challenging myself so this path naturally attracted me. With so few visible minorities in the Forces, when I went on basic training, I was only one of two out of a class of over 60 soldiers. I never found my ethnicity an issue with anyone and for me it has been my biggest strength. I always worked to try and represent myself as an example of my Indian culture and upbringing. If anything, being a visible minority has intrigued my colleagues to ask questions about my background. I have been asked many times about the kara I wear and I am happy to explain its meaning, and have often had people come back to me who after speaking with me then researched Sikhism and told me of their interest in it.
The army has given me great opportunities and has really contributed to building my personal character. I have learned more about myself than I could have on my own and I now know that the mind can overcome any physical weakness one may have. Much of what I have learned has had application in my civilian life as well – leadership, time management, discipline and teaching are only a few examples. It is unfortunate that not more South Asians are involved with military service as it is a great opportunity to grow as an individual. Perhaps there is a stigma or impression that military service is for those with few options in life or is below oneself and doesn't have the prestige of an engineer or doctor. Being in the Reserve Forces you are not limited from pursuing those, or other, occupations– I know of several engineers and doctors in the Reserves. I am cautious of turning this into a recruiting opportunity, but I am hard pressed to speak of my experiences with the Forces in less than glowing terms and I look forward to sharing my current experiences in Afghanistan in future writings.
The opportunity to submit my name for consideration for a tour of duty in Afghanistan presented itself about 1 ½ ago. As the mission to Afghanistan was ramping down, I felt I needed to pursue this opportunity and prove my training and resolve to deploy to a war zone; I wanted to test myself as well. It was not a simple decision and I considered it over several weeks. My civilian employer was very accommodating and supportive when I advised them of my intent to submit my name for consideration. I had to put my life on hold in order to complete the training and tour of duty, but it was very important for me to take part in this mission.
I have valued my time and experiences with the Regular Force and have made good friends. I have certainly learned a lot and look forward to completing this tour of duty after hopefully making a difference in the lives of the Afghans. I hope that my writings will help illuminate some aspect of what it's like here, from the mundane to the exciting.
Please feel free to comment. Comments are encouraged and welcomed. All comments are read by the author.