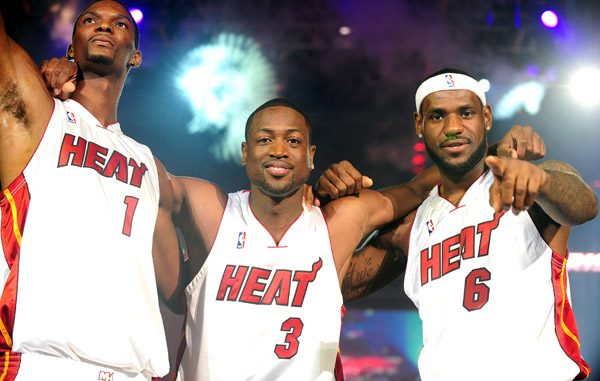 So the Miami Heat dynasty has officially come to an end and it only took 15 games. After a summer of hype about the big three – LeBron James, Dwayne Wade and Chris Bosh – a potential run at the season win record of 72 and how the NBA should just hand them the Larry O'Brien trophy in October has been shattered.
An opening day loss to the Celtics wasn't a huge surprise, but losses to the Jazz, Hornets, Grizzlies and now the Pacers are a bit surprising. The team has been hit with injuries which could be somewhat to blame. The Heat have lost 3pt shooting specialist Mike Miller for the first half of the season and now Udonis Haslem for the whole year as well. Losing players to injury has surely been difficult on team chemistry. Chris Bosh has been a huge disappointment, not rebounding or scoring with any consistency. Wade and LeBron haven't been able to share the floor and when your two best players can't be on the floor at the same time, that it is a problem.
So how do the Heat become hot again. There are a couple rumours already flying around South Beach. The first is whether Erik Spoelstra will be fired. The Heat coach is under the watchful eye of the former Jedi master coach Pat Riley and even Lakers coach Phil Jackson stated that Bosh and LeBron will talk to Riley about taking over the team. Riley would bring some cache to the bench and hopefully the most out of players that would rather "chill" than work on off days.
The other idea is that it is already time to trade Chris Bosh. Was he really worth the $110 million? Of course not, any Raptors fan could tell you that, but the thought was he could compliment Wade and James. Since Bosh isn't a typical big man who rebounds and plays in the paint, he really doesn't add anything for this Heat team who need the presence in the middle. The Heat are missing depth. At the moment they are 3 deep when they need to be 8-9 deep as a team. One way to help that would be to trade Bosh and get 3 pieces that better compliment Wade and James.
Could the Heat actually do either move suggested above? They could probably get away away with firing Spoelstra and have Riley replace him. Everyone has predicted this since Riley had his hand in convincing James and Bosh to sign in Miami. As for trading Bosh, it won't happen yet. The move would stink of desperation, plus the Miami Heat team store still has tons of Bosh jerseys in stock (seriously, if you had the choice of Bosh, Wade or LeBron, whose jersey you buying?).
The Heat have a bit of an easier schedule in the next week to hopefully get some wins and momentum under their belt before the biggest game of the year. No, not versus the Lakers, but a road game in Cleveland. Welcome back…
To follow me on twitter click HERE