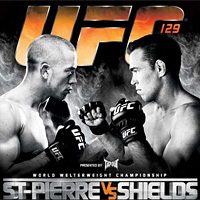 Preliminary Card (Facebook)
Pablo (The Scarecrow) Garza wins with a triangle choke in the first round with Montreal's Yves (Tiger) Jabouin tapping out. Garza improves to 12-1 while Jabouin falls to 14-7.

Post-fight quotes from Pablo Garza:
"The triangle got him, not the armbar. He was rolling but I cranked it very hard. I thought my last fight was a trip but this was mind blowing."
"The leg kicks didn't bother me. I was a little jittery, the biggest crowd I ever fought in front of was a couple thousand. This was like 'holy%#41' and it took a while to concentrate on the fight."
"I saw the Makdessi KO and it was awesome. I hope all the fights the rest of the night are KOs because I was that Sub bonus1."
Montreal's John (The Bull) Makdessi gets a great TKO spin around back punch to the head of Kyle Watson. Watson buckled and fell to the mat. He was already bloodied during the first two rounds. Makdessi was already on his way to a unanimous decision through the first two rounds with 10-9 scores. Makdessi is now 9-0 while Watson is 16-8-1.

Post-fight quotes from John Makdessi:
On the spinning back fist:
"I knew I hit him well, but I didn't know I knocked him out. I guess when you train that much, it's just a feeling to know when to use it. I like to feel out my opponent first. It's a true testament to my great coaches and my kickboxing coach."
On Dana tweeting that he's going to win Knockout of the Night:
"This is going to change my life."
On fighting in front of a big crowd:
"Every day I train in the gym and dream about fighting in front of a big crowd. I've been training since I was six years old. This is a dream come true."
Nova Scotia's Jason (The Athlete) MacDonald made a successful UFC comeback winning by submission with a triangle choke in the first round over Ryan Jensen. MacDonald is now 23-13 and Jensen is 16-7.

Post-fight quotes from Jason MacDonald:
"Words can't describe what I'm feeling right now. I had the triangle locked in and I knew he was going to slam me. I knew as long I kept him tight it would be no problem. "
On the crowd:
"Once the door closes to the Octagon, you just hear the familiar voices – but the crowd was amazing, the atmosphere out there is amazing. To walk away with such a decisive win when I had all the cards stacked against me, I can't even put it into words."
Ivan (The Pride of El Salvador) Menjivar throws a vicious tight elbow to Charlie Valencia's head for a TKO in the first round. The elbow broke Valencia's nose and he fell quickly to the mat. Menjivar kept throwing punches before the match was stopped by the referee. After winning the bout Menjivar did a few back flips and cartwheels in celebration. Menjivar is now 22-8 and Valencia is 12-6.

Post-fight quotes from Ivan Menjivar:
On the finish:
"From the clinch we were kneeing each other and then by reflex I threw my left elbow and connected. That spun him and then I followed him to the ground and that was it."
On fighting in front of the Canadian crowd:
"I was born in El Salvador but then I came here and now I represent both countries. I'm very proud to be here. It's probably because I'm Latino too. We try to represent our culture and we work hard."
Mississauga's Claude (The Prince) Patrick enters with 'All of the Lights' blaring on the 80 speakers. Patrick was wearing a Manchester United jacket earlier this week. He's not a big fan of soccer just a fan of winning teams. Fans cheering on Patrick with chants of "Let's go Patrick" and he gets another takedown. Patrick delivering successive blows, crowd loves it. Patrick tried for a submission at the end of the 3rd round but to no avail. Patrick wins the bout with a unanimous 29-28 decision over Daniel (Ninja) Roberts after three rounds. Crowd goes nuts.
Hometown boy does good. Canada now up 4-1 in prelims. Patrick is now 13-1 while Roberts falls to 12-2.

Post-fight quotes from Claude Patrick:
"It was a long time in the making. I never thought it would be possible. It was an honor to perform in front of my hometown crowd."
On his opponent:
"The guy did something different that I will never let get to me again. He went on the computer and made a whole bunch of ridiculous remarks which I didn't even read because I turn the computer off when I'm training for a fight. He made this video about my head being so big so that's why I came at him so hard in the first round and let my fists do the talking."

Preliminary Card (Sportsnet & Spike TV)
Jake (The Juggernaut) Ellenberger threw a vicious left hook to the head of Toronto's Sean Pierson sending the Canadian to the mat in the first round. Referee stopped the match, Ellenberger wins by TKO. Ellenberger was a late-replacement for the card and improves to 25-5 while Pierson is now 11-5.

Post-fight quotes from Jake Ellenberger:
"There's so many people, it's hard to stay relaxed in there. I didn't know I caught him until he went down. He was jabbing and then I just caught him with the hook. I was a little worried because it was a late-notice fight, but I came out with the win so I was happy about that."
"Mentally, I was ready to go three rounds but nothing can get you ready for that crowd. I've been to a lot of UFC shows, but I've never heard anything like that. It's hard to explain. It's hard to stay relaxed in there."
BC's Rory (The Water Boy) MacDonald doing well against California's Nate Diaz. Crowd cheering on Canadian with chants of "Rory" and "Let's go Rory". Fans also hating on Diaz with chants of "F**K you Diaz" Rory lands a knee towards the end of round 2 and had three takedowns in the round. MacDonald completely destroyed Diaz in the third round with takedown after takedown, once slamming Diaz onto his head. Crowd loving this fight and cheering MacDonald with every strike and takedown he gets on Diaz. Rory just kicking Diaz's butt. Fight ends with a deafening applause for MacDonald. Watching replays and Diaz was beaten every which way. No doubt who won this bout
That was a complete beatdown by MacDonald on Diaz with takedown after takedown. He had timely strikes and won by unanimous decision after 3 rounds, 30-26, 30-26 and 30-27.
Crowd went nuts throughout the fight and when he watched the replays he told Rogan he wanted to control the fight, damn did he ever. MacDonald is now 11-1 and Diaz is 13-7. Canada won the prelims 5-2.

Post-fight quotes from Rory MacDonald:
On the first slam:
"He turned and exposed his back to me and that's a pretty natural movement for me. I feel very strong in that position. He kept turning his back to me. I was really surprised by the third one. I felt like I was going to keep slamming him until the end of the round.
On the crowd:
"It was awesome. I definitely heard them when I hit the slams and then on the ground-and-pound. It was like a big wave of noise."
On facing Nate Diaz / defending the possibility of a kimura when having Diaz's back:
"I respected his skill level. He's a very durable guy. I trained the defense to the kimura a lot. I didn't feel threatened by the kimura. He wasn't in position for it. I was on the offensive at that point."

Main Card (Pay-per-view)
Main event on pay-per-view is underway. Atmosphere is great down here at Rogers Centre. Great video of amazing past UFC highlights was shown on the screens here at Rogers Centre playing to the Who's Baba O'Reilly. Amazing. Crowd is going nuts. Bass from the speakers is shaking every inch of my body. Damn these speakers are powerful. So it begins…
Ben (Smooth) Henderson has a wild tattoo of angel wings on his back. And that's precisely where he was for the end of round 1. A cautious start for 1st round. Henderson narrowly escaped the choke and submission towards the end of round 2, although he got a couple of takedowns on Woodbridge's Bocek. Henderson throws up his hands to the crowd to start round 3 to pump himself up. Bocek gets Henderson onto his back again. He's definitely trying to wear Henderson down. Crowd is chanting "Let's go Bochek". Bocek on his back now and he got nailed a couple of times by Henderson's punches. Round 3 comes to an end with both fighters throwing their hands up. Goes to the judges scorecard and the winner is Ben Henderson by unanimous decision 30-27. Crowd boos loudly as hometown boy loses the bout. Henderson is now 13-2 while Bocek falls to 9-4.

Post-fight quotes from Ben Henderson:
"I can do all things through Christ! Toronto, can I get an amen. It feels great to get the win. I hate losing and that I was coming off a loss. Yes, this was a big moment and it's a big night but I've fought for the world title before so I was able to stay composed in there. I'm a pretty reserved guy until all these cameras get in my face."
On getting out of submissions:
"I always try and stay calm and relaxed. I have to credit that to [my Brazilian jiu-jitsu coach] John Crouch."
On the crowd:
"It was surreal. At first they were booing because I was fighting the local guy but it's all good. At one point I took a look around and was like 'Wow, that's a lot of people'."

Light Heavyweight bout: Vladimir Matyushenko (Belarus) vs. Jason Brilz (United States)

Wow I nearly missed it. Hope nobody blinked because this was over quick! Vladimir (The Janitor) Matyushenko wins by TKO in just 20 seconds with a big time right hand strike after a left jab. Referee stopped the fight as Jason (Hitman) Brilz fell to the mat. Brilz appealed to the ref as to why the fight was stopped. He was dazed and clearly confused. Matyushenko thanks the 55,000 fans after the TKO. Now LL Cool J's Mama Said Knock You Out playing on the speakers. The 40 year-old Matyushenko improves his record to 26-5 while Brilz is now 18-4-1.
Yes, it's time for The Dragon – Lyoto Machida to take on The Natural – Randy Couture. Love Linkin Park blaring. Now Couture comes out to Red Rider's Lunatic Fringe. Awesome.
Crowd is loving it. Good ol' Canadian song. Should be a great bout. Couture is former two-type Light Heavyweight champion, legendary MMA fighter is 15 years older than the Brazilian Machida.
The bout is underway Randy lands a jab, crowd is chanting "Randy". Machida lands a knee with 90 seconds left and then another in the dying seconds. Both fighters stay on their feet for the entire round and exchange strikes. Machida needs a takedown.
Wow what a kick by Machida in 2nd round! Steven Segal is quite the coach. Second time he's taught that kick to a Brazilian fighter, first Anderson Silva and now Machida. Couture's swan song not a good one but crowd gives him huge ovation. The Dragon was teary-eyed and called Couture a hero. This is obviously a bittersweet feeling for both fighters. Couture calls it a career and damn he lost a tooth on that kick. Crowd sends him off with ovation and chants of "Randy"

Post-fight quotes from Lyoto Machida:
"I had a dream when I was 18 years old that I would fight Randy Couture. But I thought I would never get the chance because I was too young. It was an honor to fight Randy. He's the man and a legend."
On the fight-ending kick:
"My father said in martial arts to always be different. He taught me to look for different techniques and angles."

Post-fight quotes from Randy Couture:
"This is it. I think the last time we had this conversation I had all my teeth."
"He's a tremendous fighter. It felt like I was standing still out there, and he caught me with a great kick."
"The fans have always treated me great, but to go out on that ovation was very special."
The music here is great tonight and damn the bass is shaking the press box like you wouldn't believe. Awesome atmosphere tonight. Before tonight the most speakers used at a Rogers Centre event was 40 speakers for an AC/DC concert. UFC is using 80!
Mark (The Machine) Hominick of Thamesford, ON gets a huge ovation while defending featherweight champ Jose Aldo is booed just as loud. 5-round title bout about to begin.
Round 1: Hominick gets a punch in, while just before that Aldo nearly knocked down the Canadian with a kick on the lower leg. Aldo then takes Hominick down and puts him on his back, mounting him for a long time and landing a few elbows and punches to Hominick's head. Ref stands them up before Aldo scores another takedown. Hominick ends the round on his back and is bleeding under the right eye.
Round 2: Hominick starts to land a few strikes but Aldo also ducking under a few as well. Aldo is patient and waiting for a chance to take Hominick down. Fans boo after fighters being on the ground for too long. Ref stands them up but Aldo scores another takedown. Fight is kind of boring with it being on the ground so much. But that's Aldo's game plan and what he's good at.
Round 3: Hominick is a good striker but has poor takedown defence against Aldo. With less than two minutes, Aldo lands a couple of strikes of his own and gets Hominick down and lands a few more punches. Hominick lucky that he wasn't knocked out. He's in a very vulnerable position at the end of the round but survives…barely.
Round 4: Hominick's front left leg is taking a beating, Hominick is limping very slightly. Then Aldo lands another punch dazing Hominick again dropping to the mat, Aldo lands more punches putting him on his back and landing more strikes. Fans react and are disgusted by the baseball sized welt on Hominick's forehead. He is examined but allowed to continue with less than a minute left. Aldo scores another takedown. Fans groaned every time Hominick's welt is showed on screen.
Round 5: Before the last round the trainer tries to smooth out the swelling on Hominick's forehead. He's examined again but doctor allows him to continue. He then scores his first takedown of the bout. Crowd goes crazy as he mounts Aldo. Then lands a few punches. Aldo looks tired. Crowd jumps to their feet cheering Hominick on. Hominick then proceeds to pound Aldo with punch after punch right until the end of the bout. Hominick does his trademark pushups and Aldo joins him. Crowd on their feet to applaud that bout. What a fight! Goes to a decision.
What a comeback for the Canadian kid after being badly beaten in the first four rounds. Glad that the officials allowed him to continue, he clearly showed a lot of heart and determination.
Despite the great 5th round by Hominick, Aldo gets the unanimous decision – judges scored it 48-45, 48-46, 49-46 for Aldo. But what a bout, respect to both fighters on that one. He retains his belt and featherweight title. Hominick is getting a huge ovation after the fight. The swelling on his forehead is huge. He thanks the refs for not stopping the fight. Hominick says "I fought hard for you guys. Hope you enjoyed the fight." Hominick is now 20-9 while Aldo improves to 19-1.

Post-fight quotes from Mark Hominick:
"First off, I just want to say to my wife that I hope I didn't put you into labor. I know you're do any minute. I love you, babe and I hope that you're okay. And second, I just want to thank John McCarthy for not stopping the fight. I was never going to give up."
"I didn't throw enough combinations. I was throwing all single shots. I wanted to get one up on him and I let him get one up on me. It's one of those things, you go back to the drawing board and I'll come back stronger."
"I thought I could've attacked a bit more on the ground. I thought he was going to be attacking me more instead of holding me down. I fought hard for you guys and I hope you enjoy the fight."
The time has come…the main event. Georges St-Pierre vs. Jake Shields. Hope it is as exciting as all the other fights tonight. Jake Shields enters with Rage Against the Machine's Renegades of Funk – awesome.
Round 1: Just over a minute and a half left in round 1 GSP nails Shields with a punch that knocks Shields back and off balance for a quick sec. Other than that both fighters feeling each other out for the most part but GSP lands another couple of punches at the end.
Round 2: Crowd now doing the "ole" chant, thought that only happens at soccer matches, while one guy from above is doing a solo "GSP" chant. Two minutes in GSP lands a blow from overtop of Shield's head. Shields lands a big punch of his own to GSP's left eye. GSP landed nice spinning kick and a punch in round 2, but Shields hanging in there. GSP once again lands a couple but not a whole lot happened in that round – time for round 3
Round 3: Great takedown defence by GSP. Drops to one knee to stabilize himself and pushed himself upwards. Shields misses another takedown attempt but unable to get him down. He tried there but missed entirely. GSP scores a takedown in the final 30 seconds of Round 3.
Round 4: GSP gets a takedown in the first 30 secs and throws a couple of punches before letting Shields stand up. Halfway thru GSP lands a great kick to the side of Shields head sending him to the ground dazing him. But he gets back up. Shields eggs on GSP by throwing his hands up and waving him forward to strike more. GSP is bleeding with a cut on his nose. Last round – moment of truth.
Round 5: Crowd cheers as the last round starts. Both fighters give each other respect tapping their gloves again before it starts. Nothing really of note happening here in the final round as both fighters are cut and just going through the motions. Both fighters are content to stay on their feet, GSP obviously is doing that for a reason but why isn't Shields attempting a takedown.
Wow after all the great fights tonight that was anticlimactic. Both fighters hug each other after the bell rings to end the fight. Goes to a decision…and GSP wins by unanimous decision. 50-45, 48-47, 48-47. He successfully retains his title but he got hit round 2 and could not see out of his eye properly after that. He said his vision is very blurry and very scary. He then apologized to the fans for not fighting a better fight. But says Shields was a better fighter than he thought.
This fight was clearly a dud, especially compared to the other great fights that happened earlier. GSP was clearly bothered by punch he took to his left eye in the second round and could barely see which might be the reason why he was more conservative and being very cautious. He lacked the killer instinct that fans believe he needs to have in order to truly be a great fighter but he did just enough to ensure he came out with a victory. Fans will be disappointed but all in all a great night – the first ever UFC event in Toronto was clearly a smashing success.
To follow me on twitter click
HERE
Download or stream
the 500 Level podcast with co-hosts Aman Dhanoa and Ben Trattner as they discuss news, opinions, and views on Toronto sports from the Upper Deck. Leafs, Raptors, Jays, Argos, TFC – nothing is off limits. It's good to be a fan!
Also available on iTunes
Contact Aman Dhanoa at aman@oyetimes.com

Article viewed at: Oye! Times at www.oyetimes.com