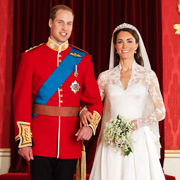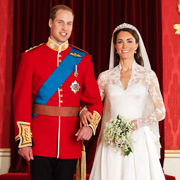 Estimates say that over two billion people tuned in to watch the ceremony. Imagine that this is close to one in three people were watching. One in three? Good lord, this was truly a global event. Is there anybody on the planet – I can't get over that, the
entire planet!!!
– who doesn't know about this? Now just picture your own wedding. Televised? People lining the street as your "carriage" went by pulled by a team of horses? Ha! I think it's safe to add that those Royals know how to put on a shindig.
The BBC offered the Royal Wedding in Numbers giving some interesting tidbits about various aspects of this event. 5,000 police officers; 35 sniffer dogs; 55 arrests (really!); 130 street cleaners; 140 tons of rubbish (including manure – I was wondering!); 24.5 million people watched in England out of a population of 51 million.
ABC added some interesting numbers about the Internet.
2.1 million: The number of total tweets about the royal wedding over the past week. (This includes tweets with the Twitter hashtags #royalwedding and #rw2011, and those about the bride and groom, the royal family, notable guests and other relevant topics.)
1.77 million: The number of public Facebook comments to mention the phrase "royal wedding" over the past four weeks in the U.S. (In the U.K., the figure is 1.8 million over the same time period.)
800,000+: The number of views for "Royal Wedding Invitation," the most-viewed official royal wedding video. (The most-viewed unofficial royal wedding video, "T-Mobile Royal Wedding," has 14.2 million views.)
4/25/2012: The week Google searches for "Kate Middleton" surpassed searches for "Lady Gaga" for the first time.
70: The percentage increase in worldwide Google searches for "fascinator" (Kate's hair piece) over the past 30 days.
What? Fascinator? Leave to a guy (moi) to not be paying attention to the clothes. Hey! How important in that? According to Wikipedia, a fascinator is:
A fascinator is a headpiece, a style of millinery. The word originally referred to a fine, lacy head covering akin to a shawl and made from wool or lace. The term had fallen almost into disuse by the 1970s. In the early 21st century, the term has made a comeback, but the meaning has slightly changed; it is now used to describe a delicate, slightly-to-very frivolous head decoration worn almost exclusively by women. A fascinator may be worn instead of a hat to occasions where hats were traditionally worn—such as weddings—or as an evening accessory, when it may be called a cocktail hat. It is generally worn with fairly formal attire. Prior to Prince William and Catherine Middleton's wedding in 2011, fascinators have become popular.
Boy, am I out of touch or what? Ha! Google image search: fascinator. Google image search: fascinator Kate Middleton.
The "official" wedding photos have been released and are available on the web site of The Prince of Wales.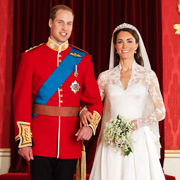 The Royal Wedding party (large)
http://www.princeofwales.gov.uk/content/images/1085621233_110430121334_LRG.jpg
Kate and William (large)
http://www.princeofwales.gov.uk/content/images/425811439_110430120625_LRG.jpg
group (large)
http://www.princeofwales.gov.uk/content/images/831725321_110430120515_LRG.jpg
ABC News – Apr 30/2011
Kate Middleton and Prince William: The After party
After billions of people tuned in to their wedding, it was time to celebrate.
The Herald Scotland told me something I did not know. Kate Middleton and Prince William are now officially the Duke and Duchess of Cambridge. Yes, Billy is Prince William of Wales but Kate can't be the Princess of Wales as that title is occupied by Camilla, Duchess of Cornwall. Whew, all this royal title stuff is complicated. Didn't somebody say the other day that it's actually a royal pain in the, ah, ascot?
I loved this line from the paper. Kate walked down the aisle to meet William at the front and as William glanced at his veiled bride for the first time, millions could lip-read his whispered message: "You look beautiful." Pretty sweet. That would set a lot of hearts aflutter. How fairy tale can it get?
Today marks day two of married life. Time Magazine ran an amusing article on funny tweets made by various comedians about the event. One of my favourites was this:
@pourmecoffee
Now, royal couple must settle down into mundane real life. "Kate, where is the ketchup?" "Did you LOOK?"
29 Apr via Seesmic Web
I had to laugh at that. "Kate, where is the ketchup?" "Did you LOOK?" My gawd, is there a funnier representation of the stereotypical married couple? Of course, the real funny thing about this is imagining them in any way doing what the rest of us commoners do. Try to picture either William or Kate hunting around for the ketchup. Would they ever go to the kitchen? I can't help thinking of this old joke: "Prince Charles is just a regular guy. His valet puts his pants on one leg at a time." That cracks me up. 🙂
Reference
Wikipedia: Clarence House
Clarence House is a royal home in London, situated on The Mall, in the City of Westminster. It is attached to St. James's Palace and shares the palace's garden. For nearly 50 years, from 1953 to 2002, it was home to Queen Elizabeth, the Queen Mother, but is since then the official residence of The Prince of Wales, The Duchess of Cornwall, and, from 2002 to 2009 (when their official residence was moved to Saint James's Palace), Princes William and Harry. It is open to visitors for approximately two months each summer.
official web site: The Prince of Wales
The Prince of Wales: Clarence House
The Prince of Wales: Gallery of official photos
Click HERE to read more from William Belle
Article viewed at: Oye! Times at www.oyetimes.com