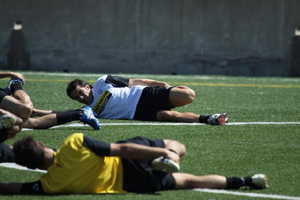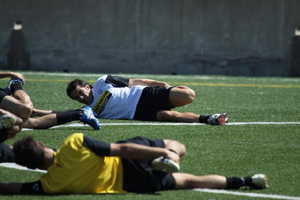 Alessandro Del Piero stretching at the
Juventus practice at Lamport Stadium
Juventus arrived in Toronto late Sunday night after their shocking 3-1 loss to Major League Soccer's (MLS) New York Red Bulls in New York City.
Despite the late arrival, Juventus were back on the pitch again Monday morning to take part in a light practice at Lamport Stadium in advance of their friendly with fellow Serie A club AC Fiorentina on Tuesday night. The team ran through some light drills and took time to sign autographs and pose for pictures with their many fans.
With the World Cup just a couple of weeks away, Juventus were unable to bring their entire first team for their brief North American tour. But some of their big stars did make the journey including Alessandro Del Piero, David Trezeguet, Fabio Grosso, Diego Da Cunha and Amauri De Oliveira, just to name a few.
Disappointing Season
It has been a frustrating year for Juventus as they posted a 16-15-9 record to finish 7th in the Serie A standings. Finishing 7th is unacceptable for Juve's die-hard fans as the storied team is always held to a higher standard in Italy.
"I feel that a lot of things went wrong, it was a disastrous season," said Juventus star striker Del Piero.
"Hopefully we're going to rest, recalculate what we're supposed to be doing and come back strong for the season next year."
Finishing in the top four is often considered a guarantee for Juventus and it's expected that the team will challenge for the title every season. This year's result was difficult to accept for Juve fans worldwide and many of them have voiced their displeasure with the team's fall from grace.
"They're absolutely correct, said forward Amauri De Oliveira. "There's no question that we played a horrible season and the fans have every right to say what they're saying. Even the players didn't understand why this was a very bad season, but it's over. Next year we will start again a new season."
Toronto Soccer Showcase

Amauri De Oliveira answers
questions from the media
Juventus will take to the field on Tuesday night at the Rogers Centre against Fiorentina in the first of two soccer showcases happening this summer in Toronto. The other will feature Manchester United and Celtic FC on July 16th.
Fiorentina, who finished 11th in Serie A, are also coming off a disappointing performance after playing to a 1-1 draw against the Montreal Impact on Sunday.
Soccer friendlies don't always result in stellar performances. But the familiarity between both Italian clubs should produce some exciting football as Juventus and Fiorentina will no doubt be looking to redeem themselves for their poor outings this past weekend.
JUVENTUS Lineup: Alessandro Del Piero, David Trezeguet, Jonathan Zebina, Zdenek Grygera, Alexander Manninger, Hasan Salihamidzic, Luca Belcasto, Alessandro Bernardini, Antonio Candreva, Diego Da Cunha, Paolo De Ceglie, Amauri De Oliveira, Albin Ekdal, Fabio Grosso, Goncalo Jardim Brandao, Nicola Legrottaglie, Luca Marrone, Simone Padoin, Michele Paolucci, and Francesco Bardi.
FIORENTINA Lineup: Juan Manuel Vargas Risco, Stevan Jovetic, Sebastien Frey, Cristiano Zanetti, Gianluca Comotto, Cesare Natali, Felipe Dal Bello, Keirrison De Souza Carneiro, Alessandro Gamberini, Massimo Gobbi, Elhadji Babacar Khouma, Federico Masi, Marco Marchionni, Mario Alberto Santana, Vlada Avramov, Andrea Seculin, Lorenzo De Silvestri, Manuel Pasqual, Haris Seferovic, Federico Carraro, Francesco Di Tacchio, and Marco Donadel.
Click HERE to view more pics from Juventus Practice in Toronto.