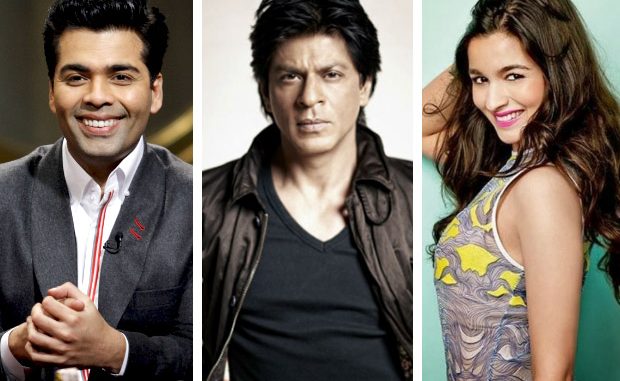 The much-awaited talk show Koffee with Karan returned with a new season this Sunday. So, the season kick started with Shah Rukh Khan and Alia Bhatt who brought along some sassy burns, inside jokes, gossip and a lot more.
Readers are aware that Shah Rukh Khan and Alia Bhatt are starring together in Gauri Shinde's Dear Zindagi. They showed their camaraderie on the couch and well, the premiere was a good start to the season. Here are some of the laugh out loud moments from the show that you may have missed.
1.Alia Bhatt confessed that if she had to stalk someone she'd stalk Kangana Ranaut and she had a valid reason for it. She said, "She has a lot of lovely airport looks but I really want to know where she is going. Where is the plane landing?"
2.Shah Rukh Khan also gave the fans a new word- Demotional. While talking about the new generation, he said that he loved how they could easily be emotional about a film and yet detach themselves after the film is released. Detached but emotional – Demotional.
3.Alia Bhatt was over the game Kill, Marry and Hook Up with the same choices- Arjun Kapoor, Varun Dhawan and Arjun Kapoor. She is done killing Arjun for past four years now.
4.Shah Rukh Khan was given a task to read a washing machine guide in Shakespearian twang and gave the fans too many feels.
5.Alia Bhatt was asked to choose her potential dates between Ranveer Singh and Ranbir Kapoor. She couldn't choose so said, "Why can't I just stay home and eat pizza?"
6.During rapid fire, Shah Rukh Khan poked fun at Ranveer Singh and turned out to be an admirer of the latter's assets. Karan asked SRK, "What would you do if you woke up as Ranveer Singh?" As SRK is known for being witty, he said, "I'd ask him where he got the padded underwear in Befikre. If it's not padded then I am a fan!"
7.As Alia confessed on having a legit boyfriend at the age of 16, Karan asked, "Would you kill the person who kissed you daughter?" Shah Rukh said, "I'd rip his lips off."
8.SRK wasn't done with his sassiness. When he won the hamper for the fourth time on Koffee with Karan, he has some joke about Karan's 'hamper'. He said," I can handle your hamper. I have done it for years. I'm the Nadal of hampers."
9.The quiz round began and the guests were supposed to use the buzzer to answer the questions. The buzzer had antennas. When Karan asked SRK put his danda up on the buzzer, SRK just couldn't deal with the reference.
10.The time Karan quizzed Shah Rukh on who would he pick up as his co-star if he were to star in Fifty Shades of Grey. He picked Alia and Karan's reaction to it was pretty hilarious. Being a mentor to Alia, he was so not-on board with it.
Source: Bollywood News original article at The hilarious moments from premiere of Koffee with Karan featuring Shah Rukh Khan and Alia Bhatt