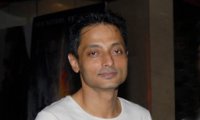 You can publish this article on your website as long as you provide a link back to this page.
This article was last updated on April 16, 2022

Sujoy Ghosh is all set to unleash his
Kahaani
this Friday (in fact preview shows happen on Thursday night itself). However, what seems like a happy outing didn't particularly start on an easy note, especially after his
Aladin
flopped at the box office. Moreover, even Vidya Balan wasn't at the peak of her career (which she is today) when he conceptualized the film with her which means that there were challenges galore since not many were willing to invest into this 'kahaani'.
"When we were writing Kahaani then it was all hunky dory because Aladin was yet to be released and we felt that it would be a super hit. However, things changed and there was this mountain of a strong 'No' in front of us", Sujoy forces a smile on his face, "Somehow everyone out there had a view on what I should make next. Kahaani hardly seemed to be the kind of film they felt I should be doing. But I kept my faith intact and didn't give up. See, if you believe in something then you have to hold on it without being illogical or stupid. At the end of the day there is no set formula or assurances."
Now that the film is ready for release, he is plain happy about the fact that he has made the film in a manner he wanted. Without thinking much about the escalation in commercial appeal that Kahaani seems to be enjoying, Sujoy says, "Really, I don't want to analyze these aspects so much. I would rather live in an uncertainty to see what really happens on its release. Till then I want to sleep happy at night. There is no set formula that tells you whether a film will work or not. Whatever God is giving me, I am absolutely happy with that. I wanted to work with Vidya and I have achieved that."
He is quick to add though that there was never any desire to create something 'hatke' when Kahaani was conceptualized. Acknowledging the fact that Kahaani needs to be looked at as a film which is as entertaining as it gets, Sujoy says that it is just the requirement of the script that a female was pitched as a central protagonist.
"Frankly, Kahaani was never made to declare to the world that hum log kuch alag kar rahe hain", says Sujoy in a matter of the fact tone, "It is just that the story demanded a pregnant woman in the central role. Yes, we wanted a well known face since it is the demand of the film and we got it in the form of Vidya."
And seems like he got much more than he would have bargained for as Vidya has taken personal interest in ensuring that the film gets right dose of promotion and release.
"She knows that the job is not yet done. She is with Kahaani till it stays in theatres", concludes Sujoy with a smile.