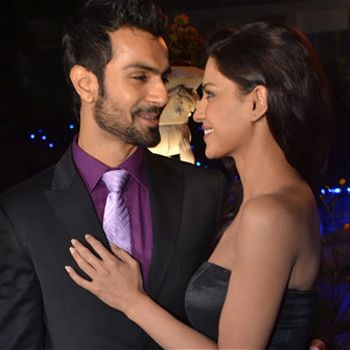 You can publish this article on your website as long as you provide a link back to this page.
This article was last updated on April 16, 2022

"Ashmit was never my friend," says the controversial queen Veena Malik in a recent interview adding, "We met in 'Bigg Boss' (season 4 in 2010) and after that we have not met. I am just working. I have friendship only with my career".
How simple is that for the disloyal Veena Malik to decline friendship with Ashmit Patel with whom she got smitten in Bigg Boss season 4 and was spotted many times afterwards. Veena Malik and Ashmit Patel had a more-than-friendship chemistry in Bigg Boss 4 which got sparked at many media channels as well. After the reality show ended, the controversial couple was seen cuddling at many events, joined each other on their birthday bashes and also visited Ajmer Sharif Dargah in Rajasthan together.
Moreover, Veena Malik is also doing the lead role pairing with Ashmit Patel in her upcoming film "Supermodel".
Contrary to all these facts Veena Malik said, "I have no connection with anyone whom I met in 'Bigg Boss'. They don't even exist in my life".
The raunchy babe Veena Malik is though busy with her latest projects but probably she has got some short time memory loss that she even don't remember her off-screen love affair with Ashmit Patel and the frequent PDA.
Click HERE to read more from Fashion Central.