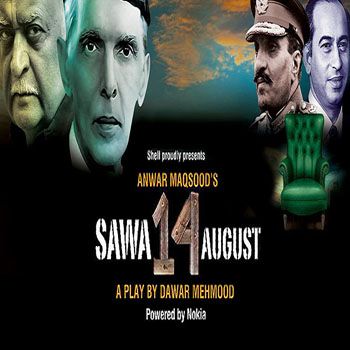 You can publish this article on your website as long as you provide a link back to this page.
This article was last updated on April 16, 2022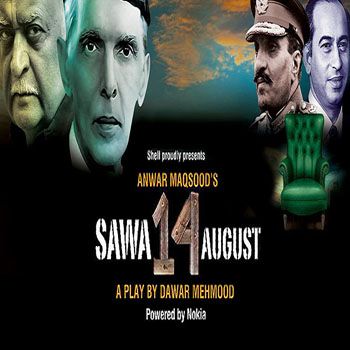 "Sawa 14 August", the sequel of Anwar Maqsood's "Pawnay 14 August" is scheduled to hit the Karachi from August 13th, 2013 – October 30, 2013. The play is directed by talented Dawar Mehmood and presented by KopyKats Productions.
KopyKats Production is going to present a sequel "Sawa 14 August" f or 14 August 2013 creating a new era where Zulfiqar Ali Bhutto and Zia-ul-Haq will be confronting Quaid-e-Azam face-to-face by a political commentary for everyone to get cherished from this pure theatre melody.
The living legend Anwar Maqsood presented his thought provoking ideas about the Pakistan's political fate in a light ironical way. He has depicted the role of a true patriotic leader to inspire youth to be patriotic, sincere and enthusiastic about Pakistan's position internationally.
Supporting the theatre and entertainment industry and the passionate love for the country Anwar Maqsood has penned both dark and bright aspects of society. In collaboration with NAPA, he encapsulates cry and laugh written naturally between literary, political, show-biz oriented and at times with tacky jokes along with the law and order situation in an amusing way.
In fact, the play "Sawa 14 August" is a silent massage for the sleepy, ignorant and impolite public and the leading political leaders of Pakistan to revitalize their thoughts and mission about the prosperity and progress of our homeland Pakistan.
Click HERE to read more from Fashion Central.