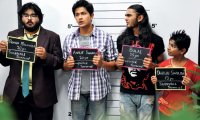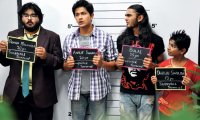 There are times when fatigue sets in while watching the usual masala films that have precious little to offer in terms of content. The customary item songs, the much explored panoramic locales of Europe, the familiar dialogue and drama catering to the NRIs how one longs for something fresh to come out in cineplexes that would pep you up again. 2011 has been a landmark year for Bollywood. Besides the success ratio which has shot upwards, the material churned out by dream merchants has been much better when compared to previous years. Irrespective of how these films fare, you cannot turn a blind eye to the fact that there has been a genuine effort to give the audience something fresh. SHAKAL PE MAT JA doesn't have a Khan, Kumar, Roshan or Kapoor starring in it, but it attempts to tell a story that's refreshingly different. However, it's the screenplay that plays a complete spoilsport. What could've been an interesting movie turns out to be part attention-grabbing, part drab, part prolonged. Wish this could've been another high-wit, low cost comedy that's fun to watch, like TERE BIN LADEN.
SHAKAL PE MAT JA is a story of four young boys who get caught up as suspects at the Delhi International Airport. They get caught while capturing an aircraft landing on their camera, which they claim to have shot for a documentary that they are making. With their explanation and situation not being fruitful, they are brought into the interrogation room of the International Airport. SHAKAL PE MAT JA is based on a true incident that occurred at Delhi Airport, according to first-time director Shubh. Though terrorism is a serious issue and the film tells the story of four youngsters, who are mistaken as terrorists, the director has interspersed light moments all through the narrative. But it's the screenplay that doesn't hold your interest after a point. A few moments are truly wonderful, but the writing goes awry towards the second hour. There are too many jokes on flatulence, which, after a point of time, appear in poor taste. Besides, the finale with too many characters is amateurish and long-drawn-out and the film, for some reason, is devoid of excitement as it reaches its culmination. Of course, there are some zany moments, especially the sequence when the terrorist [Zakir Hussain] calls up from out of India, enquiring about the plan. Besides, the dialogue are truly bright and witty at places. First-time director Shubh shows a flair for comic moments and like I pointed out earlier, a few sequences do make you smile/laugh. But the writing is devoid of fun and far from watertight. The title track is catchy and energetic. Cinematography is alright. Shubh sports the right expressions and his body language adds power and effectiveness to the character he plays.
Chitrak is okay in a few sequences, but his dialogue, at times, are incomprehensible. Pratik comes in his element towards the second hour. The kid is quite confident. Amongst veterans, Saurabh Shukla is top notch. In fact, he steals the show with a truly wonderful performance. Raghuvir Yadav is equally fantastic. Aamna Sharif does well, though her role could've been better developed. Zakir Hussain is first-rate. Aditya Lakhia succeeds in making you laugh. Mushtaq Khan, Joy Sengupta, Umang Jain and Rajkumar Kanojia appear in brief roles.
On the whole, SHAKAL PE MAT JA is one of those whacked-out satires that sounds far funnier on paper than on screen.