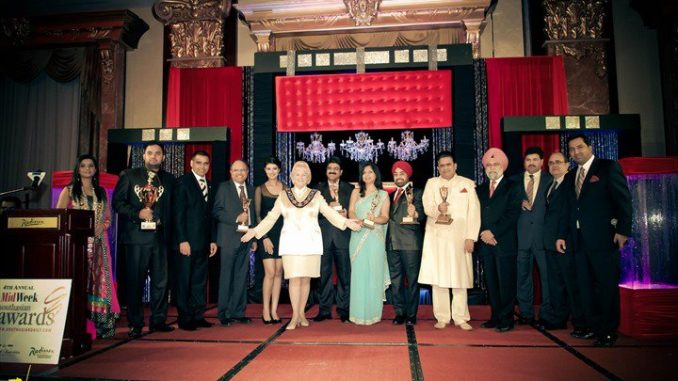 Another year, another successful awards night. And so continues the grand tradition of honouring remarkable South Asian achievers who symbolize entrepreneurial spirit, sportsmanship, and philanthropy.
On Saturday, November 12, 2011, the 4th Annual Midweek South Asian Awards show, presented by Aureus University, School of Medicine, was held at the plush Grand Victorian Convention Centre at Radisson Plaza, where the who's who of the Greater Toronto Area converged to celebrate the contributions of nine South Asian trailblazers from all walks of life.
This year the grand addition of a glitzy red carpet event brought with it a real sense of occasion. Drawing hundreds of guests every year, this one-of-a-kind show included high-profile South Asians, well-known business houses, and a host of politicians such as Hon. Bal Gosal, minister of state for sport, Conservative MP Parm Gill, Liberal MP Kirsty Duncan, MPP Harinder Thakhar, MPP Dipika Damerla, and Susan Fennell, mayor of Brampton. The gracious Mrs Preeti Saran, Consul-General of India was also present. The event was covered by Rogers TV and Sony TV and several other ethnic media.
The fast-paced and engaging show hosted by Jake Dheer, Rogers TV station manager, and Surbhi Guleria, host of Badhai Ho on Omni TV, kicked off with a rocking Bollywood dance performance by Jadoo Entertainment who wove their magic right through the show. The ravishing Bollywood actress and former Miss India World, Sayali Bhagat, flew in all the way from Mumbai to put up a scintillating live performance — a first for the Midweek South Asian Awards event. Sayali, who will be starring in the upcoming movie Ghost, took time out to pose with guests for pictures and signed autographs. A fashion show by Silver Tulip added to the glam quotient.
The award for the South Asian Businessman of the year (SME) went to Rick Walia, owner of Solutions retail stores. The South Asian Sports Person of the year went to cricket player, Herman Kahlon. Abhinav Kumar, CEO of Telkin Corp, a business process outsourcing and medical transcription company, was awarded with the South Asian Youth of the year. Anu Srivastava, financial controller of Rose Theatre, Brampton, was honoured for excellence in the field of community service. Terry Papneja, president of AIM for SEVA, a Canadian not-for-profit organization, was awarded with the South Asian Humanitarian of the year and S.P. Singh Oberoi, chairman of Apex group of companies, won the Sher-e-Punjab award.
Satish Thakkar, president of Excelsior Financial group and president of Indo-Canada Chamber of Commerce, won the South Asian Professional of the year. Ravi Subramanian, founder and chairman of Silverline Technologies, won the Philanthropist of the year award. Harpreet Sethi, owner of Radisson Plaza, won the South Asian Person of the year, 2011.
Speaking at the event, Yudhvir Jaswal, chief editor of Midweek News Weekly, said that it is important to recognize leaders who make a difference in the community as they not only represent the talent of today but are an inspiration for the achievers of tomorrow. He went on to add that if there is one true export from South Asia, it is the message of peace and goodwill disseminated by Mahatma Gandhi himself — a message he hoped everyone present at the show would take away with them.
The organizers are thankful to their title sponsor Aureus University, School of Medicine, Aruba, and other sponsors such as American Express, Sara Detox, Sukhwant Thethi (mortgage specialist), Balraj Dhaliwal (Daas Optical), Murari Thapliyal and Prashant Rai (Thapliyal & Rai Law Office), Tarun Virdi (mortgage manager at TD), Dharmender Kumar (Insure My Future), Pradeep and Mini (Minaaz), Raman Dua (owner and broker at Savemax), Simar Bedi (Atlantic Web Printers), Rajeev Kumar (realtor), and Pankaj Monga (PMGI Financial).






For more information on the 4th Annual Midweek South Asian Awards, visit www.southasiandaily.com.