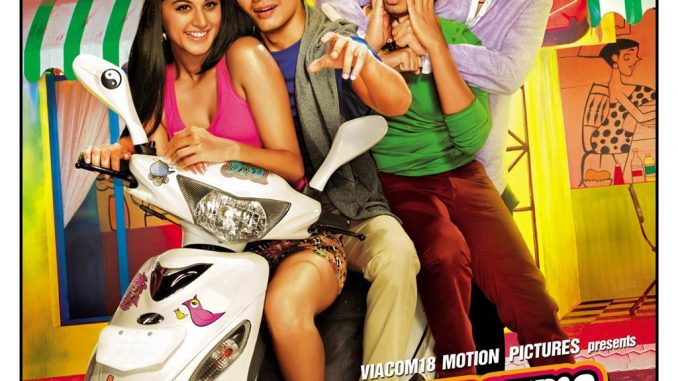 Movie Review
Chashme Baddoor
Cast: Ali Zafar, Taapsee Pannu, Siddharth, Divyendu Sharma, Rishi Kapoor, Lilette Dubey
Directed by: David Dhawan
Review by: Faisal Saif
Ratings: * * * 1/2
I very well understand that you all now hate (Literally) the word 'Remake' after going through a torture called 'Himmatwala' last week. Believe me friends, I did not review 'Himmatwala' because i thought (After watching the film) it would be an "Insult" to the original 'Himmatwala' (1983) even to Review it. As to Review a 'Remake', You need to compare it with the Original.
But for Chashme Baddoor, We are talking about a Film maker who has spread nothing else but 'Laughter' to the world with his entire Filmography. The master of Comedy David Dhawan comes back with a Bang called Chashme Baddoor. And to back him up, We got Talented Actors performing the Original Parts. Ali Zafar (Farooq Shiekh), Siddharth (Rakesh Bedi), Divyendu Sharma (Ravi Baswani).
Like the Original, The new version (With some changes, Of course) tells the story of Sid (Ali Zafar), Jai (Siddharth), and Omi (Divyendu Sharma) , three friends living in Goa. Omi and Jai spend much of their lives womanizing and having a largely carefree existence. This is contrasted by Sid who lives his life more simply and humbly than his roommates. Their friendship is later challenged when Sid wins the heart of Seema (Taapsee Pannu), a woman that Jai and Omi had been pursuing. Seema is already running away from her Marriage. Jealous of Sid's romantic success, Jai and Omi pledge to break the two of them apart.
Ali Zafar gives a very settled and controlled performance in this one too. You are sure to fall in love with Ali Zafar again. Taapsee Pannu is cute, But is over-shadowed by the performances or Loud-Performances (Which is sure to be loved by all) of Siddharth and Divyendu Sharma. They both have "Rocked" the show completely. Rishi Kapoor and Lilette Dubey lights up the screen with their amazing chemistry and track.
David Dhawan shows his capabilities as a Director to the Fullest. Incomparable to the original, David Dhawan's new version still manages to hold its own and packs in sufficient amount of quirkiness and madness. Sai Paranjpe (Who was the Director of the Original) writes this 'Remake' too along with comedy-writers Sajid Farhad. Musically, The film has some foot-tapping numbers especially 'Har Ek Friend' which you take home.
If you are looking for an out-and-out fully Time-Pass entertainer, You just cannot afford to miss out the new 'Remake' version of Chashme Baddoor.