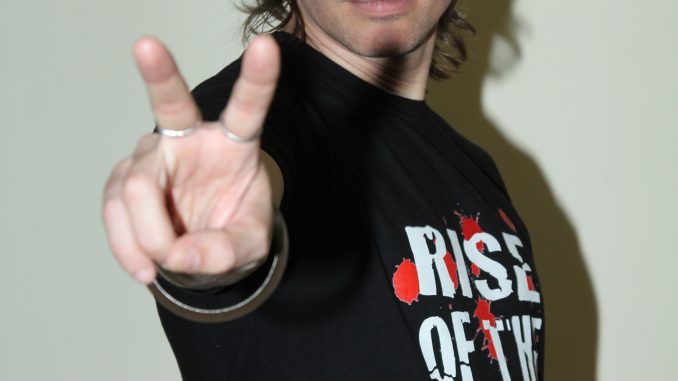 The Indian-Angrez musician Luke Kenny who was an Ex-VJ, Critic, Actor who appeared in a principal role in Farhan Akhtar-Arjun Rampal starrer 'Rock On' is all set to being his first debut Co-Written, Co-Directed India's first ever 'Zombie Genre' feature film 'Rise Of The Zombie', Goes one-on-one straight from his heart with Faisal Saif.
Such a Long-Gap after Rock On?
Generally i was busy with many other things. I had to look after my Music Channel which i had launch 2 years back. In between, I was meeting up with various people with various film projects, Each with it's own cast and budget attached. And at the end of the day, Nobody wanted to take chances. And at the end of the day, We were lucky enough to find the right kind of people who came forward and supported this Zombie film.
The Struggle-Period was a Tough Task for you?
Every film these days have struggle attached to it. No matter if you have loads of money with you. The Stars, Their Times and Dates, The Exhibitors, Distributors The marketing and Release everything is a Struggle. I would rather say it's a Challenge.
Why didn't you took 'Acting' seriously? Especially after Rock On?
Well, The unfortunate part is that our Industry still suffers from Type-Casting. If you have been cast in a particular character and you look certain way, You are bound to do only those kind of roles. And me because of the way i look, I didn't want to play the "Angrez" (Foreigner) every time. And i didn't want to play a 'Music-Role' every time. After Rock On, I was offered to play a Musician's role every time. Or else, I was offered to play 'Angrez' (Foreigner), But Rock On never positioned me as a Foreigner, So why play a Foreigner's role? Neil Nitin Mukesh looks more Foreigner than i do, But no one positions him as 'Angrez' in their films?
Why a 'Zombie' Film?
Till now there has been a certain Genre in our Indian Cinema as we know. The west has had over 40 years of Zombie Film, But in west too the main culture of Zombie Genre entered in 1968 with the movie 'The Night Of The Living Dead'. Indian history of Horror Films had always been with 'Supernaturals'. It has always been a woman with a white saree whom we all termed as 'Bhataktee Aatma' (Roaming Spirit), But the Horror Genre has so much more to offer. So we saw that there was never a film like this (On Zombie). When we mention the word Zombie, Nobody knew what Zombie means. It is also an education to the public about what happens to a Zombie or how a human being can turn into a Zombie.
Education on a Zombie?
When we came up with the title, People asked what exactly is a Zombie? So for that i would say please come and see the film to find out what is a Zombie.
I want to know your exact intention to make a film on 'Zombie'..
(Laughs) The intention was to launch my own production house Kenny Media through the film. To create Projects and Stories where credibly i would be a part of in a Leading Actor format. The movies still can happen, It's not necessary for me to be in. So we are bringing this First Film where i am the leading actor. Of course there's a certain baggage of Rock On, There is a certain recognizablity.
So you are using that Baggage?
Yes i am using that. I am using that baggage to tell a different kind of a story. I am using that to bring something new into Hindi Cinema genre which is already so saturated. Bollywood nowadays is a Dead Zone and a Dead Genre. It is the Indians who do not understand the globalization of what films have become today. Which is why our Indian Film makers are not able to make films which trend-set a Territory. That is why all our films are so 'Desi' (Local) and watched only by Indian abroad and not Foreigners abroad. So the intention here is also to become a Film maker, Story Teller who can create content that can be watched across the world in any language.
How far are you confident on Rise Of The Zombie?
We are confident about the fact that it is a story which will create a lot of curiosity. And it already has amongst the Youth because they are the one who are already very well versed on a popular culture especially the Zombie-Culture. Games, T.V.Series, Graphic Novels, International Films etc also makes the youth aware of this culture. And the feedback what we have got so far while promoting the film is that they are looking forward to seeing the film. So we are confident that when the film comes out, At least our target audience will come and watch the film.
Like every other Film maker, Have you planned a sequel too?
This is a Trilogy. The first one is Rise Of The Zombie, The second one is Land Of The Zombie and the third one has it's own title which is not decided as of yet. Because the story has been written such that it was too hard to fit into a 90 minute film. And we didn't want to make a 2 and a Half hour film. So we thought to break it into a 3 part that we will be able to tell our story in a better way. Once this film is released, Next year hopefully you'll see Land Of The Zombie.