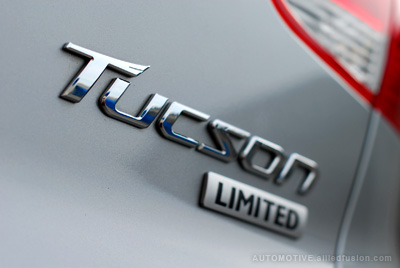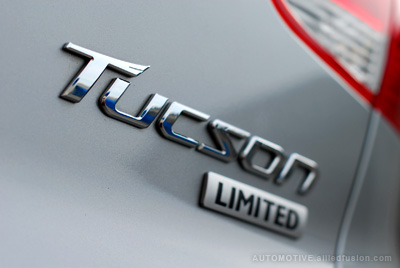 It's becoming harder and harder to find fault with a lot of the new vehicles being churned out of the Hyundai camp lately, so we took a long hard look at our test drive Tucson and tried to figure out what makes it tick.
The Tucson is a part of the vehicle segment known as Crossover Utility Vehicles (CUV) and includes the likes of the Toyota RAV4, Honda CR-V, Nissan Rouge, Mazda CX-5 and Kia's Sportage. These vehicles are no longer truck frames with bodies on them, they're not even body on frame designs anymore, the Tucson is in fact made up of a unibody construction; resulting in a vehicle with the height of an SUV and the ride quality of a car.
Design
When the Tucson underwent its major redesign for the 2010 model, what resulted was a polarizing design aesthetic that some either loved and others didn't. Based on the ix35 concept first shown at the Geneva Auto Show in 2009, this second generation Hyundai Tucson follows the company's unifying design theme known as "fluidic sculpture". The resulting vehicle manages a very sporty coupe-esque look that is rare for a CUV in this segment, and allows the Tucson an upscale feel.

We personally like the non-conservative look of the Tucson; it's bold and daring which — even in 2012 — makes it unlike any other CUV on the road today. Standing out in a crowd really works for the Tucson, and we like this baby SUV for it.
Interior
A well thought out and spacious cabin in the Tucson means both driver and passengers will find everything they're looking for in the right place with plenty of room to stretch out in. Rear seats are ideal for two adults (it can seat 3); although we did find the seat cushions a bit too low to the floor for comfort. Treats come in the form of the Limited edition package which really turns up the wow factor of the cabin. The highlight? A two-piece panoramic glass roof that spans nearly the entire passenger space, which once opened allows for a marvellously bright and airy cabin. Tucson's in Limited trim also include full leather seats which add to that feeling of luxury in this competitively priced CUV.

Tech
Everything from Bluetooth phone connectivity to heated seats is standard on all Tucson models except for base. Heated side view mirrors are standard across the line, along with power mirrors, locks, and A/C. Opt for the Limited trim, and Tucson buyers are treated to fully automatic dual zone climate control with outside temperature display.
The flashiest Tucson tech treat however lies in the Limited model with Navigation. One of the best screens and control systems are the core of the navigation unit, with what is one of the best rendered displays across all manufacturers. There's a backup camera integrated in to this system and a 6.5-inch screen means drivers will have no trouble making out what's behind them. Also standard in the Limited with Navigation trim is a seven speaker sound system with a dedicated amplifier. Although loud, we found the system to lack crispness, which isn't really a big issue unless you always plan on listening to your music at maximum volume. Don't like reaching in to your purse/pocket for a key whenever you get to your vehicle? That's fine because the Limited trim Tucson also comes equipped with proximity key unlocking and push button start; options we haven't seen on vehicles in this price range before.

Drive
For any vehicle that sits this high off the ground, it's always a challenge to make it handle really well. The Tucson — like many of its CUV counterparts — manages to be agile while maintaining its composure under spirited bouts of driving. Drivers are unlikely to mistake it for a sports car, but the Tucson does deliver on good cornering ability with minimal body roll. Our biggest gripe would be the steering, which felt a touch too heavy and lacking in road feel/feedback.
Powering the Tucson is either a base 2.0L I4 or a 2.4L I4 like on our tester. The upgraded 2.4L engine on our tester produces 176hp @ 6,000rpm and 168 lb-ft of torque @ 4,000 rpm. Despite the respectable power figures on our 2.4L tester, the Tucson feels under powered for what it weighs and a bit sluggish when being called on for moments of hard acceleration.
FWD is the only available drive train on base models, while AWD can be optioned in on midrange models or included standard on top-of-the-line models. Power is sent to the wheels through either 5-speed manual or 6-speed automatic transmissions. It's nice to see the use of 6-speed automatic transmissions across the board, but our tester didn't manage the flashiest fuel economy numbers which we found a bit disappointing.

Value Proposition
When a Limited w/ Navigation edition Tucson includes AWD, a full leather interior, that spectacular panoramic glass roof, and a full bevy of tech toys, it's hard to make an argument against it. Consider the sheer amount of options that can be had in a fully loaded Tucson for under $35k, or even the well appointed base model Tucson for about $16k and this really is a spectacular bargain of a CUV. Our biggest complaints with the Tucson arise from the driving experience, yet there are a lot of buyers who will not find it any real detriment to the ownership experience; the importance of driving performance after all, is a subjective measurement.
The questions from new buyers however, when it comes to buying a Hyundai, inevitably always center around the quality argument. The company has long wanted to buyers to look past its lacklustre past, and after having spent time with multiple model years of Hyundai's over the past two years, I too lean the same way. Besides if Hyundai's ridiculous sales success (42 consecutive months of continuous sales growth as of this writing) is any indication of public perception, it seems there are more and more buyers willing to give Hyundai a chance. With vehicles like this Tucson, we're hard pressed to see why not.

Photographs by Kanishka Sonnadara and Hyundai North America