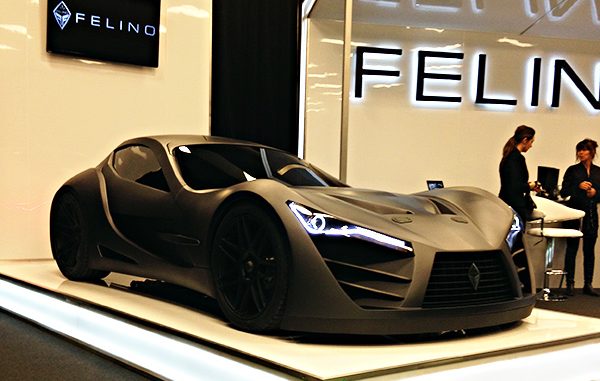 We sent our local Montreal car girl to check out the 46th Montreal International Auto Show. It's a jungle out there she tells us and picks out a few of her favourite beasties from this year's show.
When you go to any car show the most likely things you will see are… wait for it… cars. The 2014 Montreal International Auto Show is no different. However I did pick out a handful of animals that were present as well.
The feline, Felino

The unique shape of this "Made in Quebec" sports car looks like a house cat that is stretching its back high up in the sun by the window. This is not your average run of the mill gentle house cat, it is one of the ones with that fierce look that makes you afraid, don't turn your back on this creature, you may get bitten.
The bat, Aventador

With a limited edition of only 200 units to be produced, the 50th anniversary Lamborghini Aventador will give Batman –and his car– a run for his money. It has fangs in the front, a wing span worthy of the company's name and its back is sleek and sinister.
The wild cat, Jaguar

The F-Type coupe growls even before you turn it on. We all fell in love with the convertible, but this new coupe revs it up a notch with its long rear window and muscular rear quarters. Look at this cat long enough and you might just find yourself lusting for a wild thing of your own.
The stallion, Mustang

This 2015 will not disappoint die hard Mustang lovers. The facade has been updated slightly to have a more intense 'glare' while the hindquarters seem relatively unchanged. This car has hooves of fury.
The mouse, Micra

Let's not forget the little Nissan squeaker that should be called micro Micra. It is bigger than the MINI and Smart cars but still small enough that it can fit into a hole in the wall –or better yet, a tight parking space. There isn't much about how it looks that makes it stand out but don't discount it just yet, after all it's the quiet ones you have to look out for.
The 2014 Montreal International Auto Show (Salon International de l'Auto de Montréal) takes place at the Palais des congrès de Montréal and is open to the public from January 17th to the 25th.
Photographs by Kathryn Shubin.