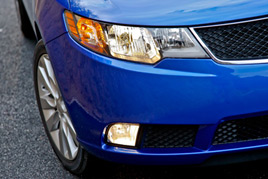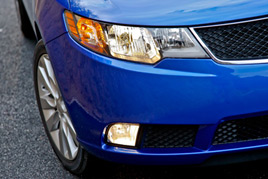 Commercial after commercial, Kia has done well in branding the name "Forte" and its catchy, multi‐use tag lines ("minding my own business, not my forte, but that IS", and "That's my Forte" see video section at
mykiaforte.ca
) in to the brain of many TV watching North Americans. It's not a bad looking car, and is well equipped to boot. Mix in Hyundai Auto Group's (owners of the Kia brand) knack for value priced automobiles, and the all new Forte looks like it could be a winner for Kia.
But is the Forte (and new sibling car, Soul) enough to get people to take Kia seriously? Will people look past their prior line up of lacklustre budget cars with plenty of known issues? Has Kia really made a good car? Is Kia now a better car company?
Well, let's take a close look at the 2010 Forte and see what we can learn.
Looks and styling
First looking at the car you may be fooled into thinking it's some version of Honda Civic you didn't know of, and then you see the profile and get a little confused. Front to rear symmetry is a little off, because the trunk seems to have gotten chopped off a little too early, and it seems Kia realized that the Forte's side profile is less than attractive, it's why you won't find any side profile photographs of this car in their marketing material. All jokes aside, this car wasn't designed by someone with tracing paper and a picture of a Civic.
Peter Schreyer is the man behind the Forte, and is actually responsible for creating a new visual identity for Kia. For those of you not in tune with the automotive design world, Schreyer is the man behind cars like the first generation Audi TT, and the Volkswagen New Beetle. Hats off to the leadership at Hyundai Auto Group for bringing on board a notable name to the Kia team; having Schreyer pays off in the respect alone he brings with him.
Back to the looks ‐ the Forte from some angles is a great looking car. The front for example, makes you think of fast, aggressive, sports car…that is until the big bold KIA logo in the centre draws your attention and reminds you of all the bad things you've heard about Kia. The tail lights are reminiscent of something you might have seen on the back of a BMW, but somehow different. The 16 inch alloy wheels aren't much to look at (I think the hub caps on the steel wheels look better), but the 17 inch narrow spoke alloys on the sporty SX trim level are… well, very sporty.

Get behind the wheel of the Forte and you're greeted by a very handsome instrument cluster, centre console, and an overall good looking interior. Gone are the drab greys and cheap looking material ‐ everything looks and feels well worth the money.
There's nothing outstanding about the design of the Kia Forte, and it doesn't bring anything groundbreaking to the automotive design world, but as a whole, it does accomplish what seems to have been Kia's goal: a car that is appealing to look at, is in line with the times, and looks like it's worth the money you've spent on it.
Models
The base Forte LX comes very well equipped at $15,795 (add $1,200 for automatic transmission). Standard equipment includes a healthy range of airbags all around, dual front power outlets, audio input via auxiliary and USB, voice controlled Bluetooth calling, and power locks/windows; all very impressive for a base model compact car in this price range.
The most popular trim option is likely going to be the EX. Buyers of the EX trim get heated seats, air conditioning, wiper de‐icers, traction and stability control, remote keyless entry, alloy wheels, some chrome trim on the outside, along with turn signals integrated in to the door mirrors (the visual elements really upgrade the look of this car). Expect to pay $18,095 for the EX in manual transmission with another $1,200 for automatic.
For those of you who want to splurge on your compact economy car there's a sporty SX trim level. It upgrades your engine to a 2.4L and gives you a 6 speed manual and optional 5 speed automatic transmission; the extra gear will make a big difference when the car gets on the highway, and should be standard on all trim levels. There are also a range of look, feel, and functionality upgrades here, including leather seating, 17‐inch alloy wheels, standard sunroof, sport tuned suspension, satellite radio, and fully automatic climate control. You spend $22,295 for the automatic transmission SX, but there are quite a few luxury‐esque amenities here that make the Forte really good value for money (visit kia.ca for a full list of model trimmings).
Final thoughts
A five year comprehensive warranty, roadside assistance, and eight year emissions components guarantee really round out what appears to be a great car from Kia.



So what's the verdict? Well, first impressions are that Kia has come up with a good formula and a respectable car. The Forte is well priced, and very well equipped for its class…so well equipped that it really makes you wonder why luxury cars have some of the standard stuff here as an option.
Combine Kia's new marketing savvy and corporate direction, and we are looking at a company that may be leaving its dark past behind.
Coming up with a good name may not be Kia's forte, but this new car and direction just might be.
Contact Kanishka Sonnadara at kanishka@oyetimes.com