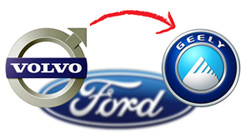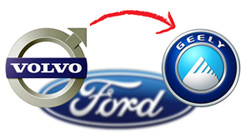 News of struggling American automakers wasn't really a shocker when it came to light a couple of years ago.
Despite global financial problems, and the American economy in dire straits, the blame of failure fell directly on the company's themselves.
Decades of mediocre cars, botchy management, and less than stellar quality had earned the big three (American) automakers a bad reputation.
Towards the end of the 2000's the big three were realizing they were in some serious financial trouble.
And Ford seems to have been ahead of the pack in identifying and trying to address their problems. One of those problems had become Volvo.
Swedish origin Volvo, an auto giant in its time, had long since slipped from their glory days. As the years passed Ford realized that they were continuing to pour money in to a brand that wasn't yielding the great results they were hoping for.
So it's understandable that after overlooking the interests of the Volvo sale to Chinese Automaker Geely in 2006, Ford turned around and reconsidered the whole matter when 2008 and an imminent crisis rolled around. Although the automaker didn't reach out for government bailout money, they were far from being safe. As the books at Ford started getting saturated in red ink, Geely's interest in Volvo became more and more interesting to the brass at Ford.
In 2006 Ford had almost laughed off Geely's interest in buying Volvo. After all, Geely had no experience outside of the Asian continent, and represented an automotive brand that to the most of the developed world looked like joke. It was quite obvious why Geely would take on Volvo, a brand with a long history of safety benchmarks, technological prowess, and most importantly Western world prestige.
It was this prestige that had made Volvo one of the heavyweights in the Chinese automotive market for years; and China was one of the largest markets for the Volvo brand in the 80s, 90s and early 2000s.


Chairman of Geely, Li Shufu
When in 2008 Geely came back to Ford with an offer to buy Volvo for US $1.8 billion, Ford took the deal without much hesitation. When you consider that Ford bought Volvo for US $6.45 billion in 1999, you get a sense of how desperate they must have been to dump the brand for US $4.65 billion less than what they paid for it 9 years ago.
The sale of Volvo to Geely was a long transaction, and almost two years later, sale has been completed. As of August 2nd 2010, the Volvo Car Corporation and related assets belong to Zhejiang Geely Holding Group Company Limited.
Geely promises to keep the Swedish brand a Swedish affair, and says they will not move primary production to China. Although Geely has already begun work on a new large Volvo plant in China, Geely says this new plant will only build Volvo cars for the Asian market. We'll just have to wait and see how this story progresses.
Contact Kanishka Sonnadara at kanishka@oyetimes.com