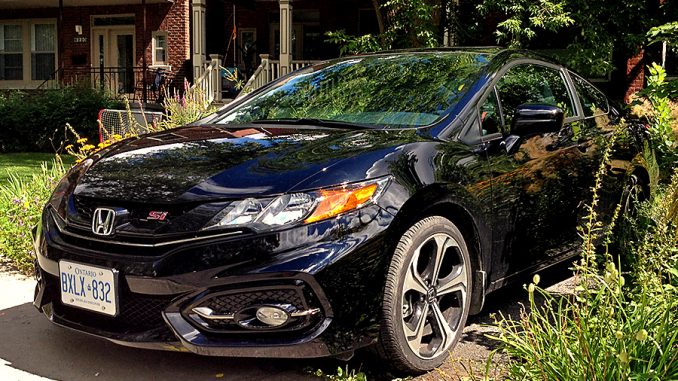 The Honda Civic has been Canada's best-selling car for 17 years in a row. The Si, or Sport Injected for those who don't already know, is the more powerful and sportier trim Civic. Driving the 2015 Honda Civic Si for a week, I was in love. However, just like love, a sporty two door isn't always convenient, especially with young children. But is the joy of driving worth a bit of inconvenience?
For the sporty parent
The Si comes equipped with a six speed manual transmission that is very forgiving. Admittedly, it has been several years since driving a stick and despite a couple stalls on my first drive I was able to get the hang of it all again very quickly.
Any parent who chooses an Si is making a statement. They are saying that having children will never take away their love of driving; they can have it all.

Loading a rear-facing two year old into a coupe is a challenge and would be near impossible with two of them. A more realistic use of the back seats would be for forward facings kids or older ones who can safely buckle themselves. Both rear outboard seats are equipped with LATCH to help secure child-seat restraints. I will note that tightening my car seat during installation required more force than usual because of the extra cushy seating of this car. This could pose a safety problem if caregivers do not check the installation of their seats. On the other hand, the Civic has received 'Good' IIHS safety ratings across the board since 2013, this includes the small overlap front test which has been an issue for other vehicles.
In the details
The features and details of this vehicle are aesthetically and electronically integrated which make it a fully equipped sports car. The 18" aluminum-alloy wheels, i-VTEC DOHC and Si badges, exhaust pipe finisher plus the wing spoiler catch the eye of other drivers while the aluminum-trimmed sport pedals, digital and seemingly 3D lit gauges, and sport seats – black with red inserts, detailing and Si badges – add to the cockpit experience.

Even the gadgets step it up; the i-MID touch screen has touch menu and volume controls and the more conveniently located higher mounted Display Audio System screen is connected with Honda's Satellite-Linked Navigation System to display turn by turn directions. The only complaint I have about the electronic side of things lies in the functionality of the navigation system; I would prefer if it stated numbers of exits and not just names as well as displaying the destination address once arrived. These are small details that would make navigating unfamiliar roads a bit simpler.
Comparability
When looking at the Civic family and considering its sales history there really isn't much direct competition worth considering. The Mazda3 Sport in GT trim may be the closest comparison point for the Si. The difference in MSRP is negligible although the Mazda does have better fuel economy which is easily explained by its lower horsepower, Si is capable of 205 hp. The Mazda3 is also not available as a two-door coupe.

The Honda Civic Coupe Si is a safe, sporty car loaded with lots of features, far more than I could list here. It combines style and speed in an affordable way that makes it an attainable option for parents who do not wish to give up on driving bliss. If you often find yourself missing out on the experience when driving a practical automatic every day, the Si may be the solution you are craving. For a bit more space and flexibility the Si can also be had as a four-door sedan.
Photographs by Kathryn Shubin