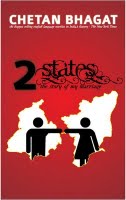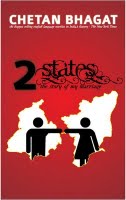 Chetan Bhagat's fourth book (interestingly the Title of all his books has a number in it) is inspired by his own family & experience.
Krish & Ananaya meet in the mess of IIM A, become friends, fall in love, get jobs respectively & wish to carry the commitment forward by getting married.
The smooth sailing affair hits major road blocks because Krish is Punjabi & Ananaya a Tamilian. Their respective families are predictably against the alliance and thus begin the journey of 2 states. A journey of convincing 2 sets of parents & two sets of clans et. al. How the parents are convinced & a show of difference in cultures; is what the novel is all about.
The initial fifty pages of the book are super quick, girl meets boy, moves in with him, they get their degrees & jobs etc. in fact it was so quick that I felt the author is in a hurry to finish his story but then when the plot moves to Chennai the pace turns to normal.
The way the South Indian Vs. North Indian angle is presented is something which is very predictable. But then as a reader there would be many points where you be like "oh this is so true" and I think that's where lies the strength of Chetan Bhagat. He writes stories which come out of his life, he has never claimed to be an excellent writer & doesn't try to prove so. All his books so far have a part of his real life and thus what he writes makes you feel "this has happened with me too". There would be numerous couples who must have gone through the same problems. Beaten to death they might be, but then it is no hidden fact that these things happen and I wonder how differently can we write about what is REAL.
Various points where us reader can relate to the book
The college life, finding the love of your life & time spent together is something you will be reminded of.
The struggles of a new job & new city.
You tell your parents you love someone & want to marry him/ her and still your parents will act as if they don't know about it. They will still present you with prospective bride & grooms. Hasn't that happened to all of us at some point?
I could relate to the Punjabi marriage & the attitude of relatives therein and am sure most of us can relate to the instances.
Having stayed in Ahmedabad & having a connection with both Delhi & Chennai I could understand the predicament of the protagonist.
But as I said the book is full of clichés and I felt that the story goes on in a linear manner. Though makes for a time pass read but makes you feel something more could/ should have been added. There is an angle of a father & son relationship which had huge potential but has not been explored properly. You my readers will agree with me when you read the book.
At many places I felt that the heart is missing. You might relate to the story but you will not fall in love with characters. You will not heave a sigh of relief & happiness when things turn happy & good. There is a sense of detachment in the book & I wonder why! Though funny at places but I missed Chetan Bhagat's signature style of sense of humor. Sure there were some one liner's but nothing at par with rest of his books. May be because the situation was such that the guy had lost his sense of humor.
The thing that I found most endearing about the book was the repeated references to the protagonist of Five Point Someone. Yes, Krish is an extension of Hari and there are repeated references of his bad grades, his affair with the professor's daughter etc. in fact when the first reference was made I ran to my book shelf to dig out Five Point Someone, to check if the old names have been retained and sadly that wasn't the case, I wonder why wasn't that done. After finishing Five Point I was left with a feeling that a sequel should be made out of it or we should at least be told as to what happens to the love story, trust me you will find the answers here 🙂
As far as final verdict about the book is concerned, an average Time pass read which am sure you will finish at one go and then remember nothing about it. No literary masterpiece but not as bad as Three Mistakes of My Life because however bollywoodish this might be it isn't unbelievable.
Priced at 95 Rs, with a solid fan following & with something there for everyone this again is a sure shot best seller!!!
An excerpt from CB's interview in People sums up the general perception about him
"Kids tell me what they like about my book & what they don't. But when it comes to writers like Vikram Sheth or Vikas Swarup, they get scared. There is a downside to this – I often don't get taken seriously. But I'm ok with it."
He compares his reputation to that of actor Salman Khan. "People say many things about him but his fans love him. Similarly, critics can surely have an opinion but my readers are what make me."
I couldn't agree with him more because despite hating his last book I made a journey of extra half an hour on Saturday (the day it was released) to grab my copy as I wanted to finish it over the weekend. He has a pull 🙂
My Rating would be 2.5
Read it for TP because at 95 bucks it is value for money but don't look out a masterpiece in here 🙂
Click HERE to read more book reviews.