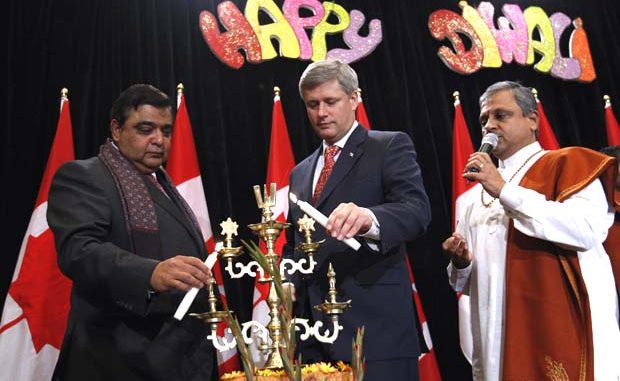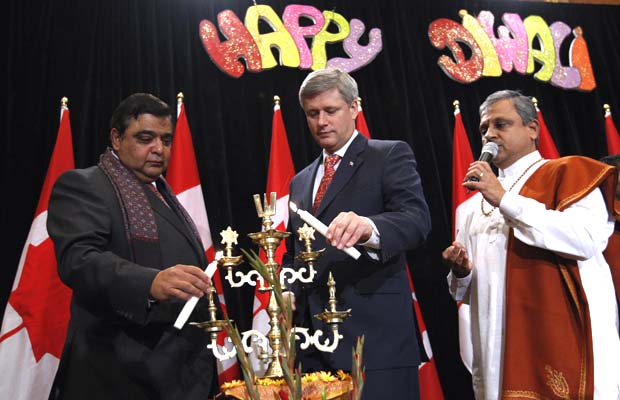 The Canadian parliament celebrated Diwali this week with Prime Minister Stephen Harper and other top leaders lighting the traditional lamps.
Immigration minister Jason Kenney, finance minster Jim Flaherty, public safety minister Peter Van Loan, parliamentary secretary Deepak Obhrai, opposition leader Jack Layton and parliamentarians were among the 450 dignitaries to attend the festivities on Thursday night.
High commissioner Shashisekar Gavai of India and envoys from Pakistan and Malaysia were also among those who attended the evening gala.
After lighting the traditional lamp, Prime Minister Harper said the "growing Indo-Canadian community is at the forefront of Canada's quest to build an even better country for generations to come".
"From coast to coast our country has been and continues to be immeasurably enriched by your contributions."
After the prime minister, Obhrai and other guests lit the Diwali lamp and participated in a Hindu traditional ceremony conducted by priests from temples in Toronto and Ottawa. Diwali will be celebrated on Oct 17 this year.
Obhrai, who began celebrating Diwali at the Canadian parliament in 1998, thanked the prime minister and other dignitaries.
"Since 1998, Diwali on Parliament Hill (the seat of the House of Commons) has grown in significance and stature, and today can truly be considered as Canada's National Diwali Festival," said Obhrai, who is parliamentary secretary to the foreign minister.
The guests were shown how Diwali is celebrated differently in various parts of India.
After the ceremonies, a traditional Diwali dinner was laid out and the guests were treated to Indian delicacies.
With the festival of lights just days away, the almost a million-strong Indian community in Canada has begun small-scale celebrations across the country.