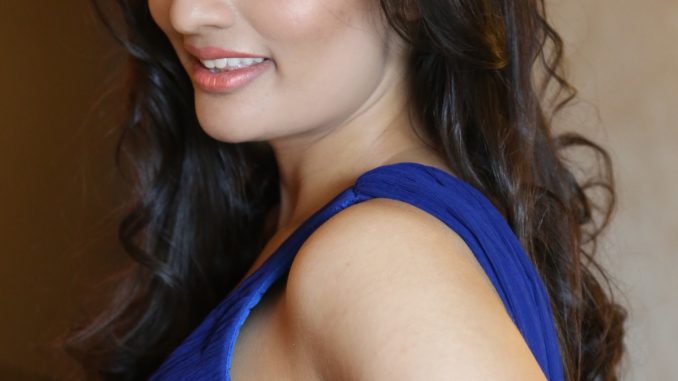 Amin Dhillon is former Miss India Worldwide Canada and working as a reporter and anchor. We asked Amin a few questions about her work, her ambitions, her style and success.
You are working as a reporter and anchor for ATN, how does that feel?
I love my job! It gives me the opportunity to experience so many different things and meet so many people. No day is the same as the last and I really enjoy bringing our viewers interesting stories from aspiring community leaders to in depth interviews with their favorite stars. Everyone has a story and I'm blessed that people are willing to share their stories with me.
Recently, you covered the Times of India Awards by interviewing Bollywood stars, quite an experience?
TOIFA's were amazing! I'm so thrilled I got to be a part of it. First of all, the people of Vancouver are just some of the most loving, kindest people ever. They totally welcomed me and the crew and made our stay so pleasant. I was really touched to have complete strangers come up to me and tell me how they watch my shows. It's nice to see how even on the opposite side of the country, people are fans! Then to meet all the people in the industry…yes it was cool to meet (and in some cases reunite) with the celebs, but there are tons of people from various other industries like the dancers, choreographers, the stylists, and even the other world media who I became friends with. A highlight was to interview Abhishek and Aishwarya Bachchan. They were number one on my list to interview and I got them! I can't wait till the next big event that brings us all together!
Do you have any ambition to make it in Bollywood?
I've been approached with film projects before and my motto is "never say never". I think it's all about finding a project you are excited about and getting a chance to grow as an individual. If a film came my way that I connected with, I would definitely be open to it.
What do you do to keep fit and what are your beauty rituals?
In my line of work, the hours are all over the place and you often end up eating out so it's tough but not impossible to stay fit and healthy. I try to get to the gym whenever possible, especially on my days off. I try to eat healthy on the road and I am careful what products I use. I also always make sure to remove all my makeup every night and when I'm not shooting, I don't wear much makeup so my skin gets a break.
How do you define your personal style?
I try to dress in a way that my look can go from day to night if needed. Sometimes I am literally out all day shooting and then I could have an evening night to attend. I am very feminine so you will often see me wearing dresses or a cute top with a pencil skirt. I like a very classic, feminine look.
What are the essentials that one must have in the wardrobe?
Blazers are a must. They are great to wear with jeans or with a dress. Definitely have a few "little black dresses"…these are classy and look great for most shapes. A pair of black jeggings with a pair of comfy black high heels.
What's in your heart right now?
It's full of gratitude for being able to live a blessed life. I definitely count my blessings and feel fortunate to be where I am in life today.
What gives you strength in life?
My mom is my biggest supporter. She has always supported my goals and dreams and is my biggest fan. She's always told me I can do anything I set my mind to and I feel very lucky to have her in my life. She's the best mommy ever and I aspire to be the complete woman she is.
How do you view success?
Doing what you love and being able to live the life you want. Balance is key. Success is when you can balance career, family, and community. Each area is important so when you can enjoy all three areas, that's success.
Envision your life 5 years from now…
I see myself still hosting. Definitely see myself hosting my own national TV show and I will be producing TV shows, films and documentaries. Aside from work, definitely travelling to new places, experiencing life to the fullest, and creating some amazing memories!