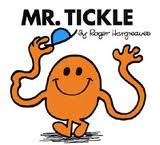 You can publish this article on your website as long as you provide a link back to this page.
This article was last updated on April 16, 2022

I note that today's Google doodle is celebrating Roger Hargreaves. According to Wikipedia:
Charles Roger Hargreaves (9 May 1935 – 11 September 1988) was a British author and illustrator of children's books, notably the Mr. Men and Little Miss series, intended for very young readers. The books' simple and silly stories, with bright-coloured, boldly drawn illustrations, have been part of popular culture for over 25 years, with sales over 85 million worldwide in 20 languages.
I have to plead ignorance. How about the rest of you readers? Is this a question of being a parent or a child during this period? I'm afraid I don't not recognise the either name or the artwork. [sigh] But I lead such a sheltered life. … Ha!
Google image search: Roger Hargreaves
Weather reports for Toronto (where I am) are showing that we are in for a pleasant, sunny week. Check out Environment Canada to see what's happening where you are. I have it bookmarked in my browser so I can easily see what I should wear outside and whether an umbrella is needed.
AFP is reporting that Al-Qaeda is vowing to avenge Bin Laden's death. NPR is saying that hundreds have been detained in raids in Syria. In politics, the Globe and Mail continues the talk about the NDP and the outcome of the election. I reported that I didn't win any of the lotteries over the weekend, but I will be going to the OLG counter today to see if I at least won anything. Come on, throw a dog a bone!
I ran across a couple of amusing videos of some street dancers in Paris.
Street Dance in Paris
http://www.youtube.com/watch?v=g49DohPRC1g
See you all around the pages of Oye! Times.
Click HERE to read more from William Belle
Article viewed at: Oye! Times at www.oyetimes.com