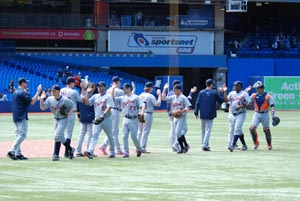 This article was last updated on April 16, 2022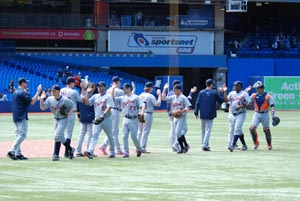 Detroit Tigers celebrate their 5-2 win
Austin Jackson's Two-run Homerun in Seventh Inning Lifts Tigers to 5-2 Win
A day after making headlines across Major League Baseball as victims of Justin Verlander's no-hitter, the Toronto Blue Jays bats fared slightly better as Jose Bautista and Aaron Hill returned to the lineup on Sunday afternoon.
However, the Jays batting order still had difficulty stringing hits together dropping a 5-2 decision to the Detroit Tigers on Mother's Day at the Rogers Centre.
Brad Penny had the ball for the Tigers (17-18), and although he wasn't nowhere near impressive as Verlander, he was effective in getting ground balls and pop ups whenever the Jays (15-19) did get runners on base. The only mistake he really made was in the third inning when he threw a 3-2 fastball to Jose Bautista who drilled the delivery for a two-run homerun to left field.
Penny pitched 7.2 innings giving up seven hits and two earned runs. His counterpart, Jo-Jo Reyes was handed yet another loss and has now gone 25 starts without a win, the longest such streak in baseball in over 17 years. Reyes pitched into the eighth inning for just the third time in his career, facing only one batter. He gave up eight runs, five earned runs and a walk to go along with one strikeout.

Tigers starting pitcher Brad Penny
uncorks a pitch
Both Penny and Reyes had similar lines heading into the seventh inning and that's when the Jays pitcher unraveled a little giving up two runs to put the Tigers ahead for good.
"I thought Jo-Jo threw the ball ok," said Jays Manager John Farrell. "He was unable to get away with a mistake or two on the plate as a result four out of the five runs he surrendered here today."
"We're in the seventh inning in a 2-2 game and yeah there's progress being made. I think he's gaining confidence with his fastball. I thought for the most part, with the exception of a few pitches, he was down in the strike zone. He threw some fastballs by some guys, yet on a day where runs are at a premium, the mislocated pitches show up that much glaringly.
Despite earning his third loss of the season, Reyes is looking on the bright side of his performance and isn't letting his lack of success affect his mindset.
"No, out there I'm not even thinking about it," said Reyes of his winless streak. "I'm thinking about competing and pitch to pitch. I took the ball to the eighth today and it was big because of the bullpen. I just got to keep grinding it on my work days and it'll all come together."

Jays starting pitcher Jo-Jo Reyes delivers a pitch
"I just got to take the positive out of it today. Minus the line I thought I threw the ball pretty well today."
Like other teams in the American League East, the Jays have had their share of ups and downs, but some factors have been out of their control, like injuries for example. On Sunday afternoon, the Jays trotted out their 30th different lineup of the year. Although Bautista and Hill both registered hits in their return, it wasn't enough to boost the slumping bats and lead the Jays to a victory.
Bautista was the DH but is expecting to return to right field on Monday night and Hill was back at second base. However, as has often been the case this season, when one player returns another exits the lineup. Adam Lind was held out due to stiffness in his back and is listed as day-to-day.
"It was good to see Jose (Bautista) and Aaron (Hill) both back in the lineup today," said Farrell. "Obviously, Jose steps right back in and give us a quality at-bat with a two-run homer. Even I thought Aaron swung the bat well with a base hit and still trying to get some consistent timing going but those two, good to see them back in the lineup."
"Other than that we were unable to string many quality at-bats together and we didn't have many opportunities to either bunch some hits together or generate much offence."

Action Jackson

Jose Bautista follows through
on his homerun in the third inning
After stranding runners in scoring position in the first two innings, the Jays finally got on the board in the third inning and in a big way. Rajai Davis and Yunel Escobar both singled to start the inning and Corey Patterson advanced Davis by grounding into a double play. That brought up Bautista who playing his first game after missing five with soreness in his neck.
With the count at 3-1, Penny threw a pitch towards the outside of the plate and Bautista, thinking he had drew the walk, was about to drop his bat. Then home plate umpire CB Bucknor called it for the second strike halting Bautista in his tracks.
With the count full, Penny unloaded a fastball but Bautista was all over it sending it well over the left field wall and off the second deck for a two-run homerun. The homer was his 10th of the season and the crowd showed their appreciation for the Jays slugger as he rounded the bases. His absence was surely felt this past week by both the team and its fans.
The Tigers didn't wait long to get back at the home side as they started a rally in the fourth inning. Victor Martinez doubled to centre field to score Scott Sizemore who drew a leadoff walk.
Jhonny Peralta was the next batter and he singled to left-centre field. Left fiedler Juan Rivera threw the ball into the infield as Martinez had already rounded third. Third baseman Edwin Encarnacion then relayed the ball to catcher J.P. Arencibia who applied a diving tag at home plate. However, the ball slipped out of his glove resulting in Martinez being ruled safe and the game was tied 2-2.

Sizemore high-fives Jackson & Inge to celebrate
go-ahead homerun in 7th inning
The game remained tied until the seventh inning. The Tigers' Brandon Inge hit a two-out single to right-centre field before Austin Jackson floated a 2-2 fastball from Reyes just over the left field wall. The two-run homerun was just Jackson's second homer of the season and gave the Tigers a 4-2 lead.
Detroit added another run in the eighth inning to tally five unanswered runs in the game. Closer Jose Valverde struck out the side in the ninth inning to earn his seventh save in as many attempts and also the 200th of his career.
Both clubs will close out the series tomorrow night and the Jays will once again have their hands full against another tough Tigers pitcher, Max Scherzer, who is 5-0 to start the season.
Meanwhile the Jays will counter with Brandon Morrow (1-1) in attempt to earn a series split with the first pitch slated for 7:07pm at the Rogers Centre.
To follow me on twitter click
HERE
Download or stream
the 500 Level podcast with co-hosts Aman Dhanoa and Ben Trattner as they discuss news, opinions, and views on Toronto sports from the Upper Deck. Leafs, Raptors, Jays, Argos, TFC – nothing is off limits. It's good to be a fan!
Also available on iTunes
Photos below courtesy of Karan Vyas
Contact Aman Dhanoa at aman@oyetimes.com

Article viewed at: Oye! Times at www.oyetimes.com
You can publish this article on your website as long as you provide a link back to this page.