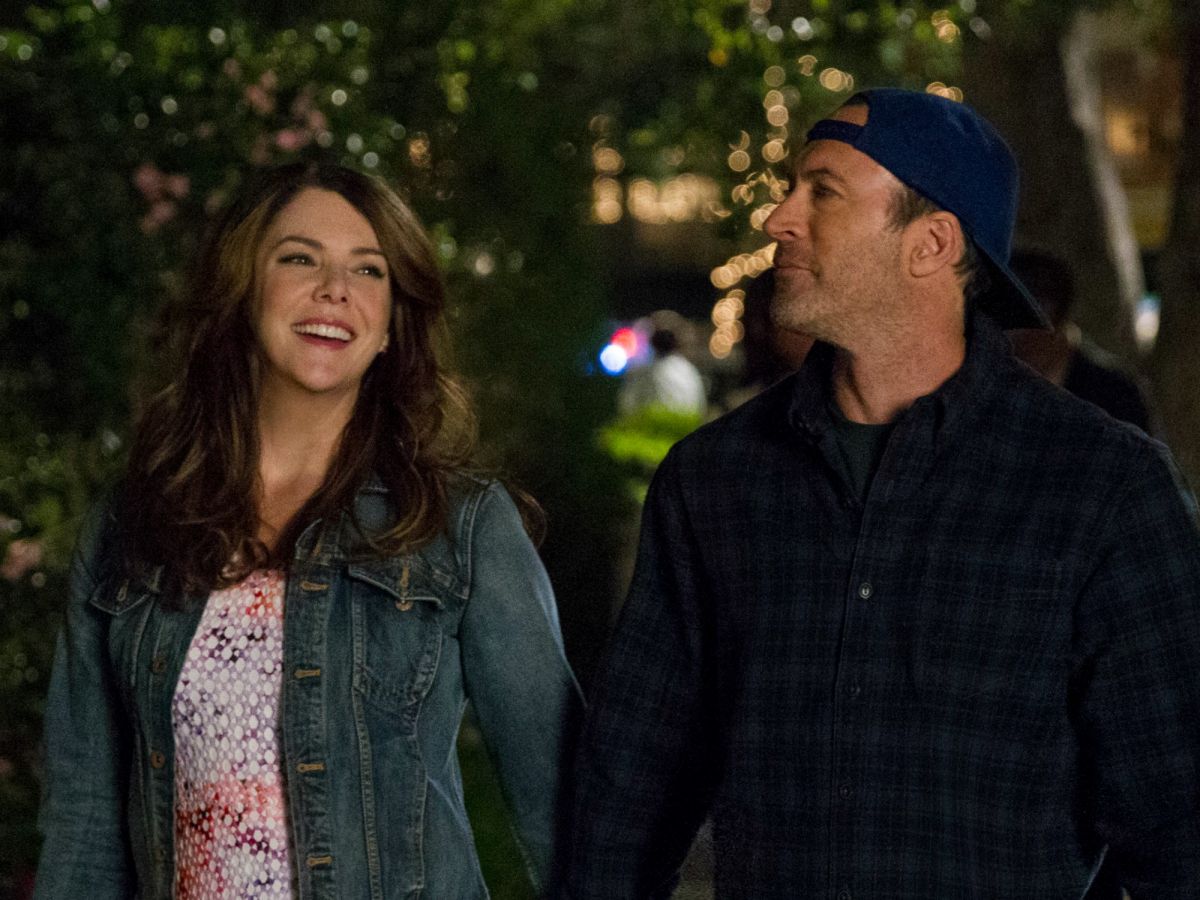 Photo: Saeed Adyani/Netflix.
Living in the age of peak TV, we've started to get greedy. We expect more from our favorite shows. From finales in particular, whether for a midseason hiatus, the end of a season, or the culmination of an entire series (gasp!), viewers want (and expect) something extra. For season finales, we need something to hold us over until the show returns. For series endings, the stakes are even higher. That ultimate episode hopefully brings the whole, sprawling story to a satisfying conclusion.
Now, what qualifies as satisfying is highly debatable. (People are still talking about the finales of The Sopranos and How I Met Your Mother.) In that spirit, we've collected some of the most talked-about finales from 2016. From Game of Thrones to Gilmore Girls: A Year In The Life, it was quite a year in TV.
Beware: There are spoilers ahead.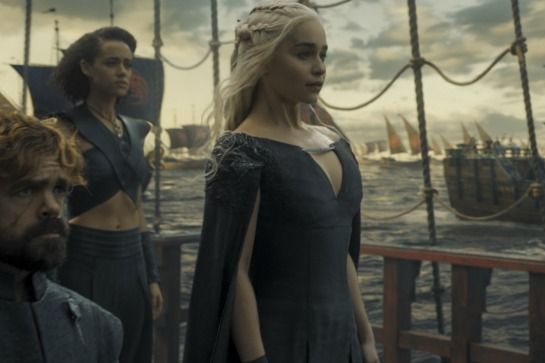 Game of Thrones (HBO)
After years of warning about its impending arrival, winter is finally upon us in
Game of Thrones
. As soon as season 6 ended in June, the hype started to build for the penultimate season of HBO's tentpole series.
In the finale, Daenerys (Emilia Clarke) has consolidated power: three powerful Westeros families are behind her bid for the throne.
Tyrion Lannister (Peter Dinklage), now Hand of the Queen, warns her that rough waters lie ahead. "You're in the great game now. And the great game is terrifying," he says.
Photo: Helen Sloan/Courtesy of HBO.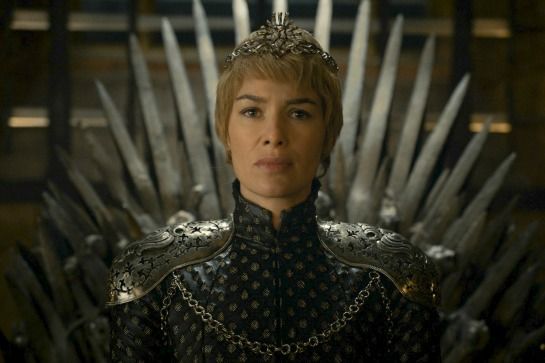 As we pointed out when the finale aired, women were some of the big winners in the Game of Thrones season 6 finale.
None, perhaps, more so than Cersei Lannister, played by Lena Headey. A massive cleansing fire may be a literary cliche, but here the inferno is less "cleansing" and more "board-clearing." After the Sept of Baelor burns, Cersei follows in the footsteps of the Mad King and takes her seat on the Iron Throne.
Photo: Helen Sloan/Courtesy of HBO.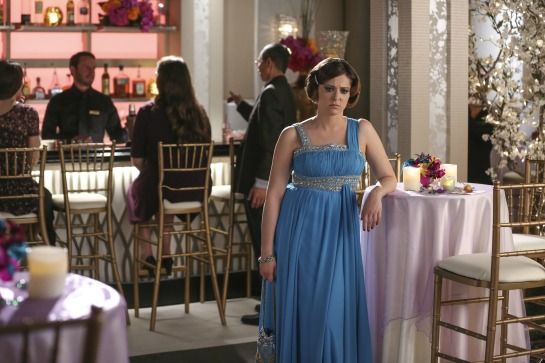 Crazy Ex-Girlfriend (The CW)
Rebecca Bunch, as played by Rachel Bloom on Crazy Ex-Girlfriend, is one of the most engaging, albeit damaged, characters on TV today. In the season 1 finale, Rebecca finds herself where she thought she had always wanted to be: in Josh's arms after hooking up at his sister's wedding.
Meanwhile, a still-drunk and hungover Greg regrets never telling Rebecca that he loves her.
As far as Rebecca has come, and as hard as she has worked to move on with Josh and embrace her feelings for Greg, the season ends with that romantic triangle intact, if a little dented and worse for wear.
Photo: Scott Everett White/The CW.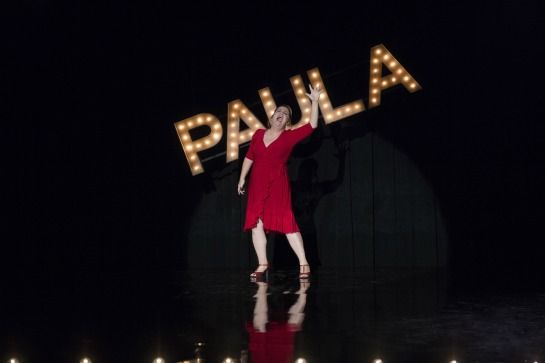 But the best moment of the finale secretly belonged to Rebecca's BFF Paula, played by Donna Lynne Champlin. The song "After Everything I Have Done for You" is Paula's declaration of independence, and also when she fully accepts her part in enabling Rebecca, to the detriment of both women.
As Rachel Bloom told us before the premiere of season 2, that big moment for Paula signals major changes for her character.
"We really look at everyone's journey of, 'What does it actually take you to be happy?' Oftentimes, that means hard work, and complications along the way, " Bloom said. "That's where I think the most change comes this season, is people actually asking themselves: 'What does it take for me to be happy?' And if you aren't happy, and you wanna be happy, you gotta change something."
Photo: Scott Everett White/The CW.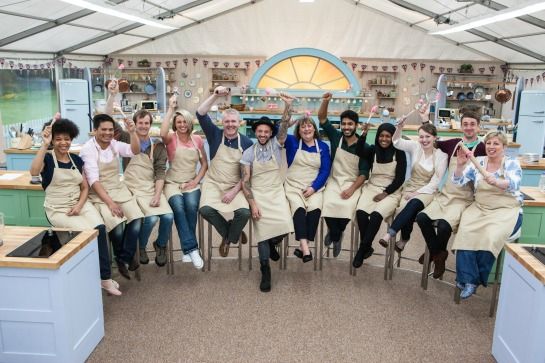 Great British Baking Show (PBS)
The Great British Bake Off (or "Baking Show" if you live in the States) is a soothing dose of humanity and humility in our volatile world. It is basically Mary Poppins' spoonful of sugar baked in a Victoria sponge. On the most recent season, Nadiya Hussain took home the coveted cake plate, due in no small part to her innovative bakes.
Following her big win, Hussain baked a birthday cake for Queen Elizabeth II. Now, that's a true showstopper.
Photo: Mark Bourdillion/Love Productions.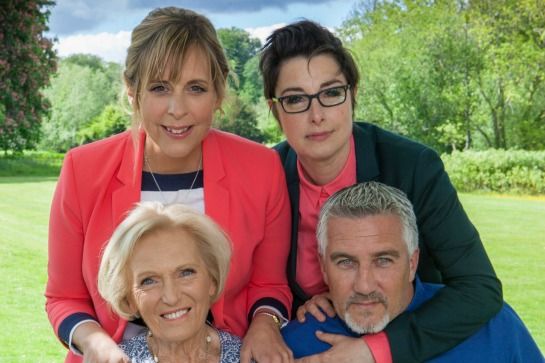 But alas, all was not quiet in the GBBO kingdom. The series as we knew it fell apart like a pudding with a soggy bottom.
The production company behind the show decided to make a move from BBC Two to Channel 4. Hosts Mel Giedroyc and Sue Perkins, the comedic backbones in the baking tent, declined to make the move.
Later, it was reported that Mary Berry would also be leaving. That means Paul Hollywood would be the only one of the four remaining.
So, while the finale with Nadiya was great, the behind-the-scenes machinations left us feeling as flat as a fallen soufflé.
Photo: Mark Bourdillion/Love Productions.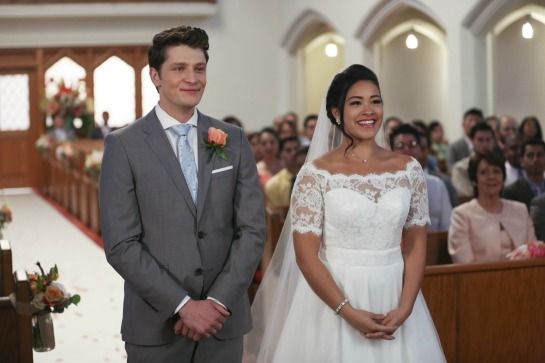 Jane The Virgin (The CW)
In this season's finale, Jane and Michael finally consummate their marriage. Jane is a virgin no more. It has been a long road for the title character, but showrunner Jennie Snyder Urman eventually removed the narrative roadblocks and put one in the win column for Jane.
"I didn't have any drama or comedy left in that device," she told The Hollywood Reporter.
Of course, not everything goes quite as planned for the happy couple. The sex itself is awkward and doesn't live up to Jane's romantic fantasies.
Photo: Scott Everett White/The CW.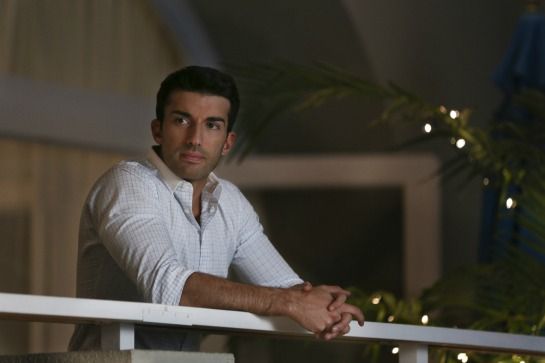 The Jane The Virgi n finale was not without controversy and disappointment, though. The episode reveals that Rafael was adopted and is of Italian heritage.
The actor who plays Rafael, Justin Baldoni, is Italian-American. Viewers have cried foul in the past, claiming that his casting as a character named Rafael Solano was whitewashing. Now, with this latest twist, it seems that the show might be trying to justify the casting after the fact.
Photo: Scott Everett White/The CW.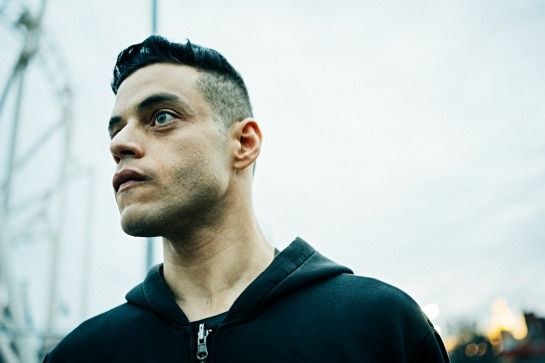 Mr. Robot (USA)
Hello, Friend.
Elliot's return in Mr. Robot 's second season didn't go quite as smoothly as the USA Network show's debut run. This sophomore slump is not unique, and some might speculate that for a show as high concept as Mr. Robot, some of the second season confusion was to be expected.
Even if the season itself (and the finale) divided fans and critics alike, there are no questions about the performance of Rami Malek as Elliot.
Photo: Michael Parmalee/USA Network.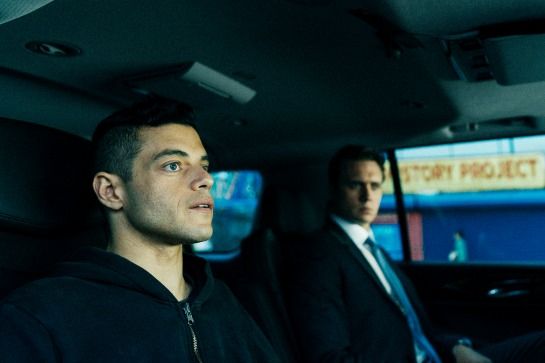 The finale, as we pointed out at the time, contains a literal and figurative house of mirrors. Elliot's reality is confusing and unreal, and the finale only heightened the confusion.
The season ended with Elliot with a gaping stomach wound, courtesy of Tyrell Wellick (Martin Wallström), despite the fact that all signs pointed Wellick being another of Elliot's hallucinations.
Not so much a cliffhanger — there's no way Elliot is dead, right? — but just one more fragment in the show's puzzle that is always missing at least a couple of pieces.
That's all in the design, as creator Sam Esmail told Variety. "The whole time, whenever we talk about the show in the writers' room and making the show, we always want the audience to be with Elliot," he said. "When he believes something, we believe in it with him. If Elliot's confused about something, which he oftentimes is, we're just as confused as he is."
Photo: Michael Parmalee/USA Network.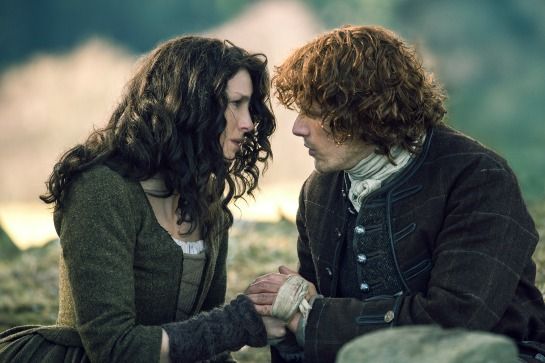 Outlander (Starz)
Outlander 's second season (or "Book Two" as Starz calls it, appropriately since it tracks the second book in Diana Gabaldon's series, Dragonfly in Amber) relocates the Frasers from Scotland to France for the first half of the season.
Along with the move across the Channel comes a massive new wardrobe for both Claire (Caitriona Balfe) and Jamie (Sam Heughan) for the French court. Gone are the hand-knits and woolens. Say hello to fine silks and elaborate embroidery.
The show follows a similar trajectory. The machinations and trickery of the Frasers' time in France is, at points, overwhelming and unnecessary. This smooths out when the production returns to Scotland and ramps up the drama heading into the final episode.
Photo: Courtesy of Starz.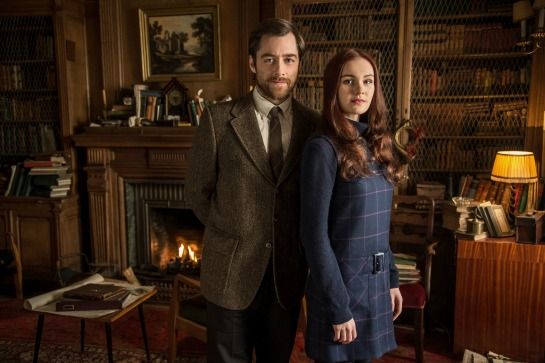 The Outlander finale splits its time between 1968 and 1764 Scotland. In the '60s, Claire and Brianna (Sophie Skelton) meet up with Roger Wakefield (Richard Rankin) at Reverend Wakefield's funeral. Much expository sleuthing ensues, accompanied by a romantic spark between Roger and Brianna.
In 1764, it is the eve of the Battle of Culloden Moor. Claire and Jamie finally accept that they will not be able to alter history. This sets up a heart-wrenching goodbye. At least the goodbye is supposed to be heart-wrenching, but since we've already seen Claire and the then-unborn Brianna in the future, some of the air was sucked out of the drama.
Claire's realization that Jamie did not die at Culloden is the true heart-wrenching moment. Especially when viewers realize that to return to Jamie in the 18th century, she must abandon her daughter in the 20th.
Photo: Courtesy of Starz.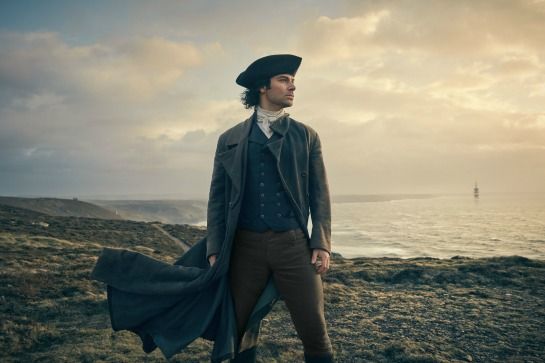 Poldark (Masterpiece/PBS)
Are you watching Poldark on PBS?
There's drama, intrigue, war, romance, and even some laughs. This is not your aunt's Masterpiece. Despite mostly positive reactions, the show did face some harsh and well-deserved criticism about a scene between Ross (Aidan Turner) and Elizabeth (Heida Reed) that many felt was tantamount to rape.
Even so, the season 2 finale did not disappoint diehard fans.
Photo: Mammoth Screen for Masterpiece.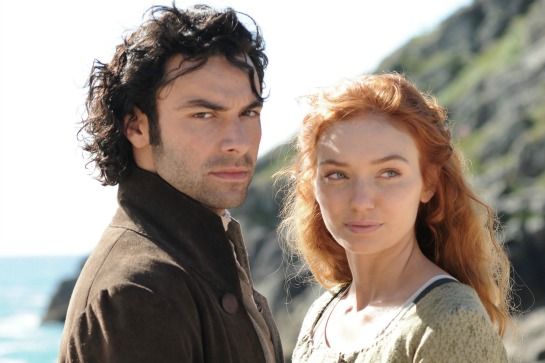 In the Poldark finale, there is an engagement, but not the one fans are hoping for from the show. Ross asks Demelza (Eleanor Tomlinson) for "her hand," but just so he can drop some gold coins in it. She is not amused.
Dr. Enys asks Caroline to marry him before he goes off to war. They even have their wedding night before an actual wedding. Better safe than sorry, you know?
Ross, despite his stated intentions, does not actually sign up to return to war. He and Demelza make their own peace that surely won't last long.
Photo: Robert Viglasky/Mammoth Screen for Masterpiece.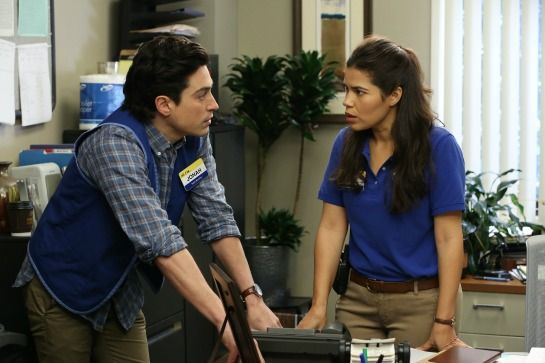 Superstore (NBC)
Superstore is one of the funniest, smartest sitcoms on TV. The NBC comedy, set in a big-box store called Cloud 9, went out big at the end of its first season.
Amy and Jonah (America Ferrera and Ben Feldman) make a call to corporate to ask about maternity leave. They mention the word "union" and send the corporate types into a tailspin.
Superstore manages to handle complicated issues like workers' rights, unionization, and corporate culture without losing its sense of humor or climbing on a soapbox.
Photo: Michael Yarish/NBC.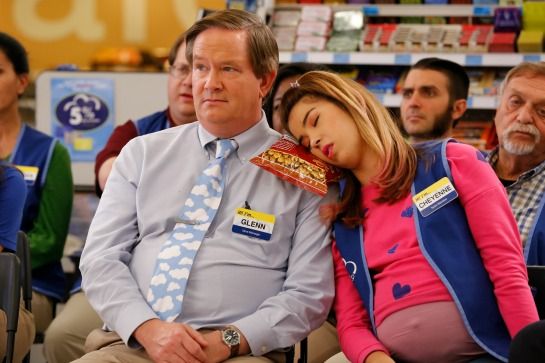 The Superstore finale draws out the inherent humanity in store manager Glenn (Mark McKinney). He puts everything on the line to help teen mom Cheyenne (Nichole Bloom) when it matters most for her.
Glenn is openly Christian, often having to stop himself from bringing his religion into his management style at the store. However, Glenn walks the walk, particularly here in the finale, showing compassion and genuine caring for his employees. He may not be the most together boss on TV, but he is certainly one of the most empathetic.
Photo: Vivian Zink/NBC.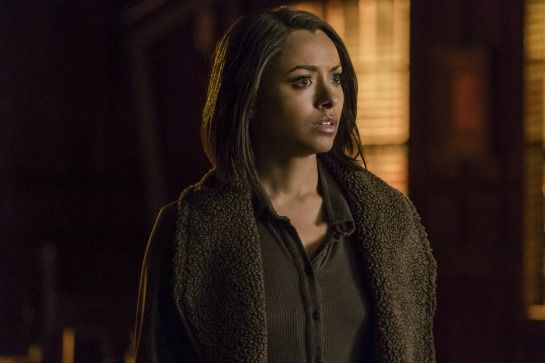 The Vampire Diaries (The CW)
Things have been really tough for Bonnie (Kat Graham), what with being saddled with a unquenchable thirst to kill every vampire. Hard times, indeed, when all of your best friends happen to be vampires.
Luckily, during the season finale, Damon (Ian Somerhalder) manages to kill the Everlasting and break the tie for Bonnie.
Also in the finale, Stefan (Paul Wesley) and Caroline (Candice King) reunite, much to the delight of Steroline fans everywhere.
Photo: Tina Rowden/The CW.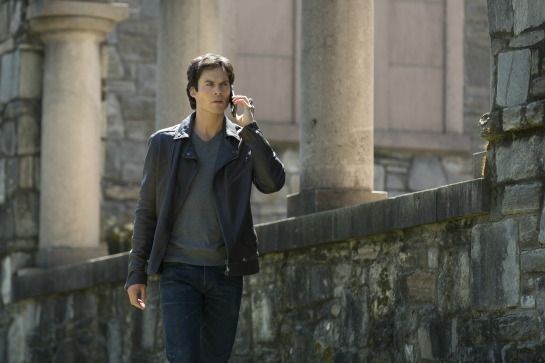 Damon may kill the Everlasting in The Vampire Diaries finale, but it comes at a cost. While in the vault, he starts hearing Elena's voice. This came as a surprise, since season 7 is the first without Nina Dobrev, despite the fact that the characters have been writing to Elena throughout the season.
E! News confirmed that it is, in fact, new dialogue recorded by Dobrev for the show.
The show has announced that season 8 will be its last. Fans are holding out hope that Dobrev will return, at least for a cameo, as Elena.
Photo: Bob Mahoney/The CW.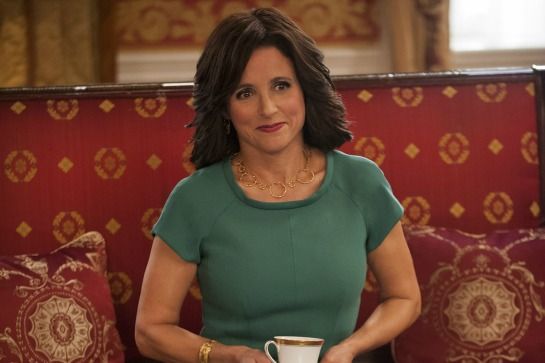 Veep (HBO)
It looked for a while like Selina Meyer (Julia Louis-Dreyfus) was going to be the first elected female president. (She became president before, after the elected president resigned.) Then, in typical fashion, it all goes to hell.
Selina goes into the finale thinking she is going to have to suck it up and become VP again. But, alas, it's not to be. The finale gives Selena a gut-punch of epic proportions. Tom James (Hugh Laurie) loses the Senate vote, and Laura Montez (Andrea Savage) becomes president-elect.
Photo: Lacey Terrell/Courtesy of HBO.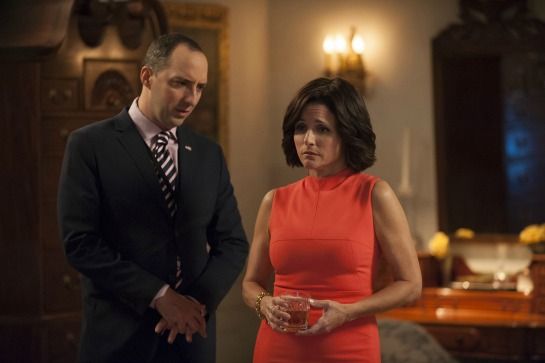 The realization that she's entirely out of office hits Selina hard in the Veep finale. Despite her being pretty much the worst, it is a credit to Louis-Dreyfus (and of course, Tony Hale's Gary) that viewers can find some sympathy for Selina.
For the entire run of the show, viewers have watched her ruthless quest for power. Now, Selena has to live in a world of what her staff call "the normals." She doesn't even have a wallet.
So, what's next for ex-President Meyer? "We're going to get to see the former president of the United States in the next stage of her career and to some extent, the quest for relevancy," showrunner David Mandel told The Hollywood Reporter.
Photo: Lacey Terrell/Courtesy of HBO.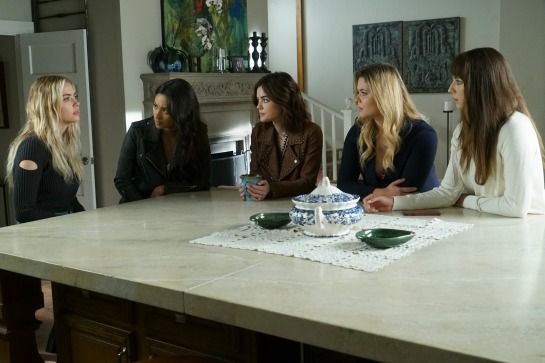 Pretty Little Liars (Freeform)
Technically, it wasn't a season finale, but instead a midseason finale for Pretty Little Liars. This is the last season of the show. The cast has wrapped and said their goodbyes. All that remains is half season airing in April.
So, what goes down with the Liars? Some get together, like Hanna (Ashley Benson) and Caleb (Tyler Blackburn). And, maybe, just maybe, Emily (Shay Mitchell) and Ali (Sasha Pieterse) will do the same.
The finale also addresses some long-standing speculation about the identity of A.D. It turns out it's not Charlotte, Jenna, or Noel.
Photo: Courtesy of Freeform.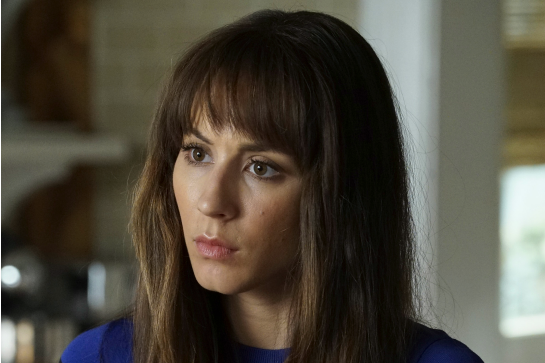 The Pretty Little Liars finale was hard on Spencer (Troian Bellisario). First, she has that goodbye kiss with Toby (Keegan Allen).
Then, she looks pretty dead by the end, after getting shot by Jenna.
Looking ahead to the series finale, fans can be assured of multiple "OMG" moments, in true PLL style. Hints have already started. Vanessa Ray, who plays Charlotte DiLaurentis, has confirmed that she will appear in the finale. Since we all felt confident that Charlotte was dead, it will be interesting to see how that one plays out.
Photo: Courtesy of Freeform.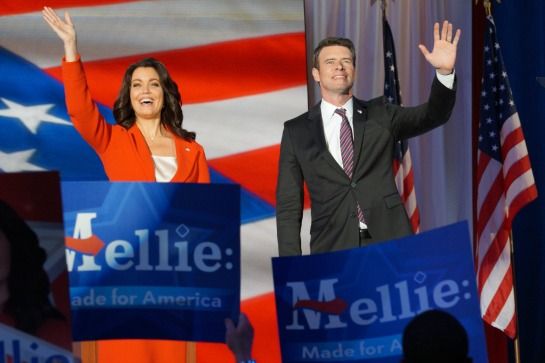 Scandal (ABC)
Scandal has never been a series for the faint of heart. The show moves at a breakneck speed, which has only managed to get faster during its run.
In season 5's finale, there's plenty of intrigue for the politicos (and even literal guns to their heads).
At the Republican National Convention, Mellie (Bellamy Young) announces that Jake (Scott Foley) is her choice for VP. This is shocking, especially considering that earlier in the episode, there's a blackmail scheme to get him on the other ticket.
Instead, Vargas' running mate is Cyrus (Jeff Perry), who tells Olivia, "At least one of us will be back in the White House."
Photo: Courtesy of ABC.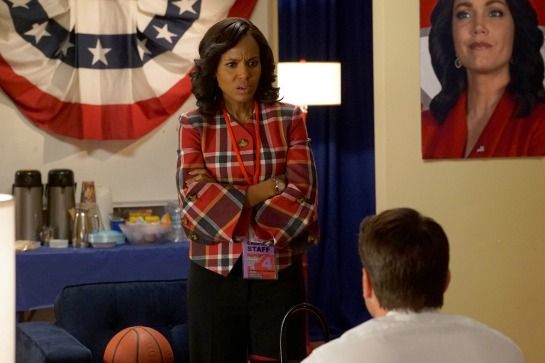 Some of the best twists in Scandal come when it appears that Oliva Pope (Kerry Washington) has her back to the wall.
The revelation of Cyrus as VP is unexpected for her, but it surely isn't anything someone with the wherewithal to wear a plaid jacket with cuffs for days can't handle.
Jake challenges Olivia to live a normal life. Five seasons of fixing have proven that normal is not something Olivia wants (or that she would probably even be good at).
Photo: Courtesy of ABC.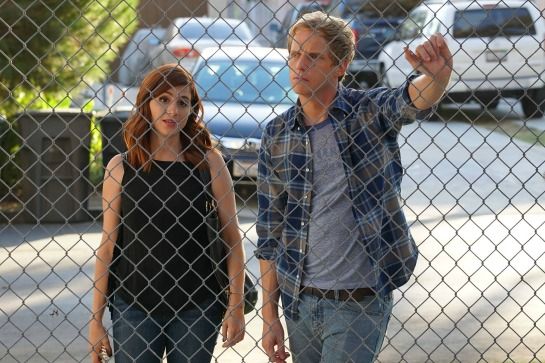 You're The Worst (FXX)
You're the Worst is one of those love it or hate it shows that is constantly pushing to see how far its characters will go. (And how far the audience is willing to go with them.)
In the finale, Jimmy (Chris Geere) asks Gretchen (Aya Cash) to marry him. The elaborate setup for the proposal involves a fake murder scene, which Gretchen finds romantic, because, well, of course she does.
"We're a family," she says after accepting. Which turns out to be the worst thing she could say. That's because earlier in the finale when Jimmy finishes his novel, he proudly proclaims he is finally free from his family. "I'm post-family," he says.
So, he disappears. Just leaves Gretchen on the spot. Gretchen's good mood for the whole episode is just a lead-up to this crash.
Photo: Byron Cohen/FX.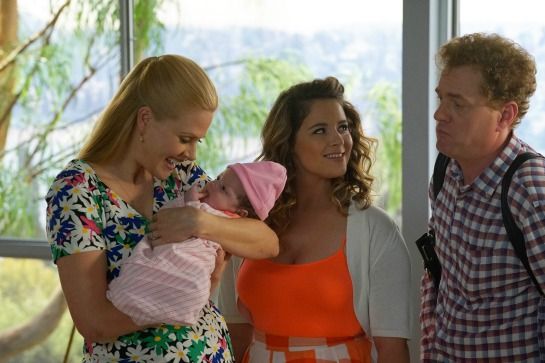 Speaking of family, the You're the Worst finale is titled "No Longer Just Us," and that is literally the situation for Becca (Janet Varney) and Vernon (Todd Robert Anderson).
Paul is ready to leave for Mexico with Vernon, but Vernon decides to stay because he is too attached to the baby. Besides, he doesn't want the baby left alone with Becca. "She will JonBenét her for sure," he says.
Given this cast of characters, that sounds about right.
Photo: Byron Cohen/FX.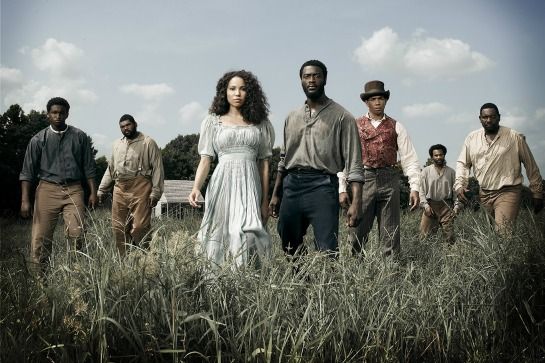 Underground (WGN America)
Underground sometimes finds itself underground as part of WGN America's relatively new focus on original drama. This is despite the big names involved, including John Legend as an executive producer.
The show focuses on brutality on two fronts: the Underground Railroad and life on a Southern slave plantation. The show packs a powerful punch. The first season examines, unflinchingly, the realities of the era.
Photo: Courtesy of WGNAmerica.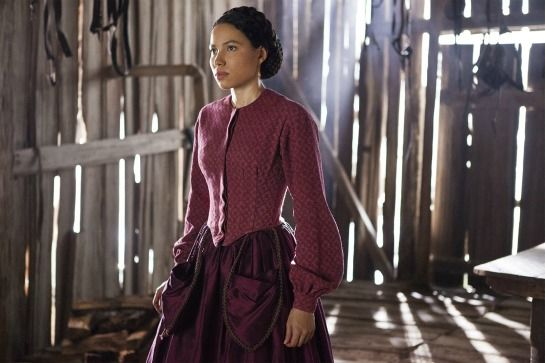 In the season 1 finale, Rosalee (Jurnee Smollett-Bell) makes it to free territory, then decides to join the abolitionist movement. In what is more a game changer than a cliffhanger, she comes face-to-face with a rifle-wielding Harriet Tubman.
Ernestine (Amirah Vann) faces an opposite fate. In a shocking turn of events, she is put on the auction block by Suzanna Macon (Andrea Frankle), the ruthless plantation mistress who takes advantage of the fact that her husband is away to get rid of a slave woman whom she sees as a threat.
The show will return for season 2 in 2017, including the addition of Aisha Hinds who, as reported by Variety, will play Harriet Tubman.
Photo: Courtesy of WGNAmerica.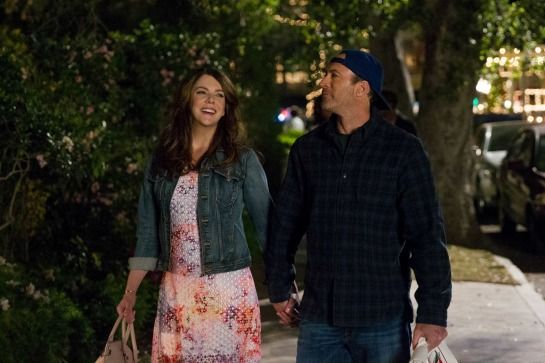 Gilmore Girls: A Year In The Life (Netflix)
It would be hard for any show to live up to the hype that has been building for months since Netflix announced this return to Stars Hollow. Gilmore Girls: A Year in the Life streamed into living rooms around the country the day after Thanksgiving, setting off a nostalgia bomb.
All of this nostalgia left us with a good news/bad news taste in our mouths.
Good news: Luke and Lorelei are together, really together. In "Fall" the final installment of AYITL, the two tie the knot in a perfectly dreamy ceremony in the gazebo. Rory is at Lorelai's side. At that moment, the Gilmore Girls' world feels complete.
Photo: Saeed Adyani/Netflix.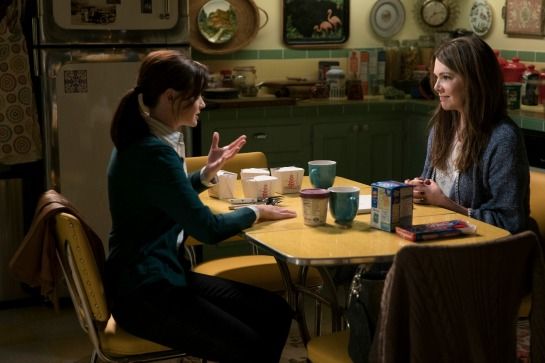 Okay, so here's the bad news part of the
Gilmore Girls
' finale:
those final four words
. Rory's pregnant, which is not in and of itself a bad thing, but she's also unemployed and basically aimless except for that memoir that she's working on.
Series creator Amy Sherman-Palladino has teased these final four words for literally years. The fact that they are, "Mom? Yeah? I'm pregnant," feels forced. Ten years ago, that might have been a dramatic cliffhanger. Now, with Rory at 32, it is a confusing, if less dramatic, cliffhanger.
Not everyone was disappointed in that last scene. But certainly, many fans hoped for something better.
Photo: Saeed Adyani/Netflix.
Click HERE to read more from Refinery29.



Loading ...