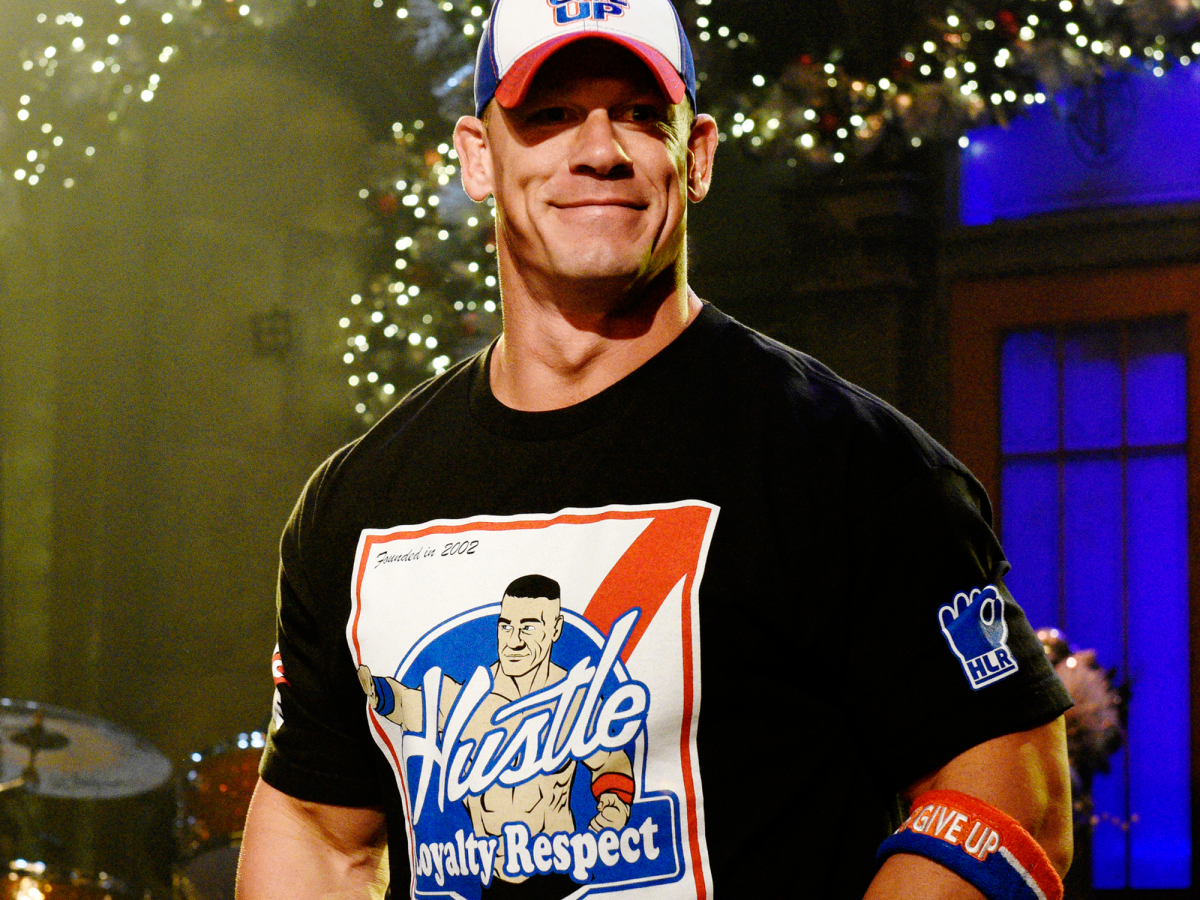 If you thought a wrestler couldn't be funny, think again.
This week's host, John Cena, first showed us his comedy chops when he popped up in the Amy Schumer comedy Trainwreck and stole every scene he was in. Because of that, we had fairly high hopes going into this week's Saturday Night Live.
Cena is funny — he has great comedic timing, so he always land his jokes. Throughout the episode, he does his best with the material, but the whole show fell flat, with only one or two skits standing out. Now that he's given the show his first attempt, we'd love to see Cena come back for more.
This episode belonged to Kate McKinnon and Keenan Thompson, though, which comes as no surprise. The best skits ranged from a chat with German Chancellor Angela Merkel and Cena playing the dumbest of jocks trying to pass a final exam.
By far, the best moment of the night was the surprise cameo from Bryan Cranston. Just one question: When are we going to get another episode with Bryan Cranston as host?
Ahead, we've gathered some of the best sketches from last night's episode.
Walter White Is Trump's Pick To Run The DEA
This past week, President-elect Trump's cabinet picks have been controversial, since their ideologies are completely at odds with the agencies they're meant to serve. What better way to illustrate that insanity than by calling on Bryan Cranston to reprise his role as Walter White — who's just been picked to head the DEA. Best line? "It's time to make America cook again."
Dyke & Fats Save Christmas
Let's be real: "Dyke & Fats" is always great. Watching Kate McKinnon and Aidy Bryant mocking the horrible labels they're often stuck with is equal parts hilarious and satisfying. Can this just be turned into a real TV show?
Angela Merkel On Weekend Update
Kate McKinnon, you are so good at playing female leaders that we need you never to leave. McKinnon's Merkel weighs in on Trump as Time 's Person of the Year. The best line? "Ah, yes, in America, you call it the alt-right. In Germany, we call it 'why grandpapa lives in Argentina now.'"
Science Presentation
John Cena knows how to play the big dumb jock with some nuance (please see him in Trainwreck). No, it's not all he can do, but he does it so well. This sketch — of a college football player who can't play in the bowl game without straight As — might have been his best of the night. Can we also give props to Keenan Thompson's professor in school-color face paint?
The Karate Teen
What if the hopeful underdog didn't win, as per usual? What if the awful teen jerk won? That's the entire premise behind "The Karate Teen" sketch. It's about a minute too long, but Cena is the perfect '80s teen jerkface. Keenan Thompson — as always — is the glue that holds this thing together.
Dating Show
Once again, a sketch that runs just a little too long, since it has only one hook, or at least appears to. Cena is the host of a dating show and manages to snag the girl without even trying.
Click HERE to read more from Refinery29.



Loading ...