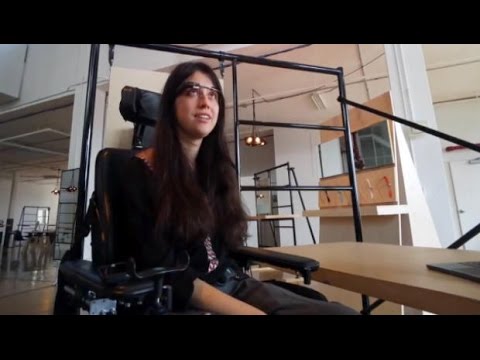 1.3 billion people with disabilities are a driving force in technology and an inspiration for innovation.
The disabled population is the fastest growing minority in the world.
Globally, there are 1.3 billion people, a market roughly the size of China, living with disabilities.
Big business wants a piece of the disabled market. It's good business strategy to do adapt for the disability market. And innovation is leading the way for new products for the accessible market.
By Ioanna Roumeliotis, CBC News – It's not every day that Google comes calling. So, when Steve Mahan got the chance of a lifetime to test drive the car of the not-so-distant future, he couldn't get in that driver's seat fast enough.
"This is great. Look Ma, no hands!"
This is the Google Car. It can't be driven. It drives itself. So really, Steve was actually more of a test rider.
"This is some of the best driving I've ever done. I love technology and there was a time in which I loved all the new things because they were novel and interesting."
Steve is blind and his disability, and the disabilities of millions of others is transforming the marketplace. Think of him as an innovator's inspiration and a marketer's muse.
The disabled population is the fastest growing minority in the world when you include aging baby boomers. Globally you are looking at 1.3 billion people. A market roughly the size of China. Add their friends and family to the mix and double that number. That's more than half the world's population. That's right, more than half.
Rich Donovan has cerebral palsy. He's the disability guru, who first crunched those numbers and saw gold.
What is the formula? How would you describe it? Special products for special people?
"Simply put, people don't like "disability tonight,"says Rich Donovan. "They want the experience. They want the mainstream value that everybody else wants. Save the pity party." .
These commercials are the examples from big name companies we all know are targeting that lucrative demographic, the disabled by simply portraying them as any other consumer.
Eight companies released commercials this year alone. That's never happened before. The last one, our favourite, wait for the ending and the simple message: beer is for everyone.
Pitches and products that hit the right inclusive note. that consumer message is so new, still such a work in progress. And this is where it starts. At meet-and-greets like this one in New York City and this one in Toronto. Everyone here, every one of them, has a disability. Visible, or not. And some pretty big players have already bought in.
"We're proud here in Canada to have BMO, IBM, PepsiCo, RBC and TD, five of the best of the best," said Susan Lang who runs Lime Connect, the recruiting agency that brings them all together.
"I think they're just recognizing again that they think differently and they bring that new perspective. And that if you have an employee base that represents a certain segment of the disability market. Then they know what they need and what they like and what they respond to."
At the sprawling Google campus in Mountain View, California, the practice of hiring people with disabilities goes hand-in-hand with the hammocks. Take YouTube, Google's acquisition. About 100 hours of video is uploaded on YouTube every minute. Ken Hammerstien's sole mission is to close caption as much of it as possible using technology he developed.
Ken (or Caption Jedi as he's affectionately called), is deaf. That's his interpreter on the right.
"We support up to 10 different languages."
It's obvious why Ken needs captions, but guess what he discovered? Most people who use them can hear just fine.
"They're hearing, but there are many reasons. Maybe that's their second language and it's difficult for them to understand. But if they read it then they get the story. Maybe in the situation where they can't use sound. Think of maybe you're in a bar with 10 different screens, or in an airport, or on a train, or a very crowded place."
"Where you kind of want the privacy of your own program, or maybe you're at home where you don't want to wake up the person next to you and you can watch television."
In other words, what's good for the disabled , tends to be good for everyone else too. And there's no denying, Google is a front-runner. From the self-driving Google Car, to Google Glass, eyewear that acts like a hands-free smartphone. Imagine if you were in a wheelchair what that would mean for you.
"I gained back a bit of my confidence I had before the accident." (featured image from CBC video)
It's not just about taking existing products and making them accessible, but rather creating completely new things to make the world around us accessible.
Eve Anderson runs a team set up to make sure all Google products meet the inclusion test. Sure, it's the right thing to do, it gave this young woman some of her independence back, but it also happens to be a really smart business move. A one-two punch that creates products for a market the size of China, and all the rest.
"We all have an impairment at some time. Maybe we're driving and so we can't put our eyes on the screen. Or we're cooking, and our hands are filthy, and we don't want to touch our phone."
"And so making things that work without relying on all of our senses and all of our capabilities at all times, is really helpful for the population at large."
And that business model is growing. Rich Donovan actually created an index called Return on Disability. And just last week it started trading on the New York Stock Exchange. His ideas are in big demand around the world.
On this day it's Toronto's Bay Street, at one of Canada's biggest banks. TD is already a front-runner in hiring people with disabilities.
"When you look at companies that just get it wrong, what is it that they get wrong?" asked TD's Paul Clark.
Rich is now here to help the bank develop products and services that can be marketed to that same demographic.
TD's Paul Clark is leading that charge.
"The net effect of it of course is that the economics are good, it's just good strategy to do this."
It's not as sexy as a Google Car, but every small accommodation can be critical too. Like ATMs, with headsets for the visually impaired and having sign language technology or staff on-site for deaf customers.
All with an eye to that growing consumer base, that in Canada alone is 12 million people, and growing. Rich believes the innovation to feed the marketplace will explode over the next five years.
"When we can get rid of those silly things we call pencils, and even get rid of those silly things we call keyboards, and start to think of ideas, and start to interact that way. That's where this gets really exciting in technology. That's coming fast. It's going to be driven by disability."
Steve Mahan is counting on that race to the future. He was a graphic artist until a rare eye disease robbed him of his sight 10 years ago.
Now, when he's not test riding the Google Car, he runs the Santa Clara Blind Centre in San Jose, California.
"We benefit from things that are novelties or conveniences for other people. If there's a ramp that you can walk up, well if I'm in a wheelchair, I can roll up it. If you can ask your phone a question, so can I."
"If you can listen to it instead of needing to look at the screen while you're driving, so can I. And so, it enables me. I love this!"
"And with that new ability, a new loyal customer. It's something important coming back to me. It's like getting well. In a certain sense it's like getting well again."
You see that test ride was also a test of Steve's very-near future. Steve is confident he'll be buying a Google Car in a matter of years, not decades. So confident, he's already promised us a ride the next time we're in town.

Ioanna Roumeliotis @IoannaCBC is a journalist with CBC News.
She has covered several stories related to people with disabilities in the workforce – Business owner makes money by hiring disabled workers and Making the most of autism on the job market.
The story and video is copyright by CBC News allowed use as Fair Dealing under the Canada Copyright Act, Section "29.2 Fair dealing for the purpose of news reporting does not infringe copyright if the following are mentioned: (a) the source; and (b) if given in the source, the name of the (i) author, in the case of a work, (ii) performer, in the case of a performer's performance, (iii) maker, in the case of a sound recording, or (iv) broadcaster, in the case of a communication signal."
From NJN Network