This article was last updated on April 16, 2022
Canada:

Oye! Times readers Get FREE $30 to spend on Amazon, Walmart…
USA:

Oye! Times readers Get FREE $30 to spend on Amazon, Walmart…
We don't care if you're a dog person or a cat person or an all-around animal hater (but you'd never admit that around here, would you?). Obviously, here at R29 HQ,we adore all things four-legged and cuddly. But even if you're not with us, we've got something that will leave you agape with awestruck wonder. Because this weekend, we went out and shot our cutest story yet.
Behold: the NYC doggie parade , an occasion for Greyhounds to become bats, Boston Terriers to masquerade as Andy Warhol, Pugs to transform into unicorns, and humans to turn into puddles of goo at the overabundance of adorable.
The result? A slideshow of inspiring puppy looks that also happens to be the perfect antidote for a case of the Mondays. Don't believe us? Click through, check out that Bichon dressed up like Donald Trump, and then get back to us.

Holly Tooker's dog Macaroon is the cutest piece of mail we've ever seen!

Finance maven Sylvia Lim's Corgi Harry comes to the rescue in this FDNY truck suit.

Photographer Micaela McLucas' pug, Sgt. Pepper, play-acts as a unicorn.

Roxy the Boston Terrier makes an adorable Andy Warhol thanks to owner Katie Thomas.

Peggy Berger dresses her French Bulldog Motek as a devil.

This dapper Doggie Trump (a.k.a. a Bichon named Blue) belongs to self-proclaimed domestic goddess, Gina Shaffer.

We can't get over Pug Gracie's Evita costume made by owner and singer, Dewey Moss.

Sculptor Kent Henricksen's son poses as a Transformers bumblebee with their blushing puppy bride, Greta.

Costume designer Amy Harrell gets into the act as the Wicked Witch with her adorable pup as a flying monkey (no Totos here!).

Pantone Frances looks like a wise owl thanks to owner/designer Sloane Madureira.

Stacy McCosky may be Wonder Woman but her Spaniel Sadie is a Wonder Dog to match!

Property manager Micah Garner and his pup make an unlikely astronaut and alien pair.

Student Alessia Resta and her pup really take their looks out of this world!

They come in peace!

Trotsky the Poodle looks happy to tote owner Ricardo Kleinbaum around in his taxi.

Owner Robert Campbell is just clowning around with his Chihuahuas Zed and Beebop.

Dash the Italian Greyhound spends a day as a bat with help from owner Cictoria Crettenand.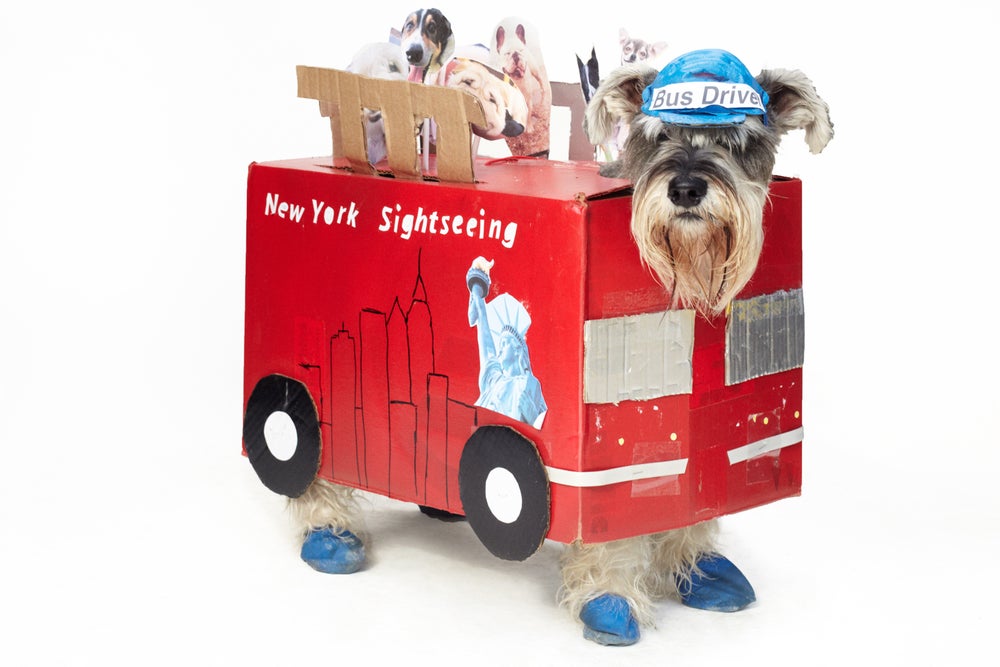 Journalist Angela Gonzalez outdid herself with her Schnauzer Nacho's New York Sightseeing bus driver costume.

Audio engineer Rick Van Benschoter disguises his puppy Oscar as Max from How The Grinch Stole Christmas.

Philip and Jennifer Skywalker Ryan make an adorable trio with pup Sadie as an Ewok.
Photographed by Winnie Au
Click HERE to read more from Refinery29.
You can publish this article on your website as long as you provide a link back to this page.