Every time we hit "Add to Cart" on a pretty new purchase from our iPads or are able to walk one step in front of Cara Delevingne as she hits the runway during a Fashion Week livestream, we imagine how freaked out our 10-year-old past selves would be if they caught a glimpse of their shopping future. Even in the past few years, the industry in all its facets — from ethics to business to how fashion is shared to how its created — has made big shifts to account for a more connected and self-aware consumer (you!).
So, if you've only envisioned the future as fashion involving shopping for peplum space suits with a Minority Report-style wraparound tablet, it's time to dive in a little deeper. We've tapped the industry's fiercest thinkers who have already been redefining our industry with their own projects and brands, and asked them to deliver their projections of what tomorrow will look like. From design to e-commerce to blogging to business, scroll through to get an idea of what the future of the industry will look like.

Susie Lau, blogger at Style Bubble
"I'd like to see more people hone in on niches in fashion content creation. I'm not really sure why people don't want to take more risks with content creation when the platform itself has no limits. I'd like fashion blogging to feel like a varied and diverse landscape so that it differentiates itself from what print magazines do, in that fashion content largely sticks to a tried-and-tested formula in print. Hopefully, then, blogging can become a fully respected form of fashion media, which doesn't have to constantly apologize for its perceived faults (lack of journalistic skills or knowledge, 'fashion clowns hanging outside a circus,' etc.)."
Photo: Courtesy of Susie Lau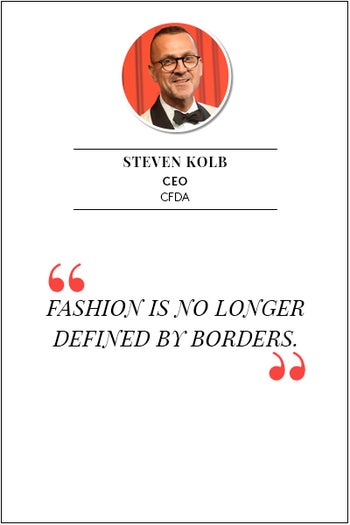 Steven Kolb, CEO of Council of Fashion Designers of America
"Fashion is no longer defined by borders. It is a global business and designers need to understand that and be able to adapt to cultural differences when creating and selling clothes in different parts of the world. Being a designer today presents great opportunity to control a brand's destiny. That comes from the influence of technology. With the influx of digital content and social media, designers are able to disseminate a brand message that they create and that has potential for global reach. Also, designers through their own relatively simple e-commerce can create their own distribution channels controlling inventory and connecting directly with consumers."
Photo: Courtesy of Billy Farrell/BFAnyc.com

Dr. Joyce F. Brown, president of FIT
"Many elements have not changed and will not change for fashion designers. It takes talent and a point of view; it takes exposure to and an embrace of the technical requirements that make design work. It takes a sensitivity to and understanding of the body — female or male — to know how to build in flexibility and comfort to accompany the statement being envisioned. It takes a knowledge of textiles and how to choose the right fabric for the design. It takes a sensibility to the importance and nuance of the appropriate color and tone to complete the execution of the vision.
And in today's world, it also takes business acumen and the skills associated with the business side — branding, production, business plans, and all the other elements that get a designer's creative vision out into the world."
Photo: Courtesy of FIT

Pamela Love, jewelry designer
"Technology in this industry is constantly changing. Jewelry for me has always been about displaying who an individual is artistically and symbolically, and therefore I feel like my pieces carry a true sense of identity. For my brand, it's important to incorporate these traditional techniques with modern technology in order to make it more accessible to the consumer."
Photographed by Jody Rogac

Deena Varshavskaya, founder and CEO of Wanelo
"The future of shopping is about democratizing commerce and reorganizing shopping around people, in which you give shoppers the power to organize products online in the same way Twitter gave users the power to organize information online. Empowering shoppers to own their shopping experience in such a way — whether online or as a mobile app — is what will dominate, and I personally would love to see the ability to pay directly from your phone without having to wait in line."
Photo: Courtesy of Wanelo

Indre Rockefeller, director of ready-to-wear at Moda Operandi
"As technology and online shopping evolves and expands users' capabilities, so will their expectations for a more personalized shopping experience, product interaction innovation, and virtual experiences that rival a brick-and-mortar store. Shoppers are becoming their own fashion authority, influencing and being influenced on a global level, thanks to social media. Immediate access to designer collections has made consumers more aesthetically attuned and decisive."
Photo: Courtesy of V. Crown

Chris Morton, co-founder and CEO of Lyst
"There is no doubt that mobile will become increasingly important in the coming years, but I don't think we should look at platforms in isolation. The amazing thing about mobile is that it totally complements other channels — it is the glue that binds the web and in-store experiences."
"The next wave, which we are just starting to see now, is the 'net native' wave, where new ways to shop that could never exist in the real world are being built online. These new concepts take advantage of the unique way the web and mobile works to give the shopper an even better experience."
Photo: Courtesy of Chris Morton

Kate Davidson Hudson, co-founder and CEO of Editorialist
"Today's consumer has access to so much with the click of a keypad. We feel the consumer is increasingly discerning when it comes to both the shopping experience they engage in, as well as with the products they are compelled to buy. Exclusivity and the value add in having a serviced and informed experience, will be key differentiating factors for the future retailers, especially at the luxury end of the spectrum."
"Today, more than ever, the increase of touch points empowering consumers to click-and-buy, whether on an iPhone, tablet, or their laptops, means that — from both an editorial publishing and an ecommerce perspective — you need to be where your reader is, so that omnichannel presence is increasingly important. To service your consumer as a brand, you cannot be further than a click away, at any point in their day."
Photo: Courtesy of Editorialist

Jon Alagem, founder of Trendabl
"The days of spending hours walking from store to store going, through rack after rack, is slowing diminishing. People want as much information as they can get within the shortest amount of time as possible. The only way to really fulfill this is via the Internet and most conveniently would be from your mobile device."
"I think the modern-day consumer is a bit more impulsive and wants to be alerted of new products in real time. A typical e-commerce store sits in the cloud waiting for the customer to come to it. While this somewhat works, it doesn't completely fulfill the need of the consumer. People are attached to social media all day long and to give someone the ability to purchase items in real time via a social platform will without a doubt generate a higher conversion rate."
Photo: Courtesy of Jon Trendabl
Designed by Darcy Moore
Click HERE to read more from Refinery29.