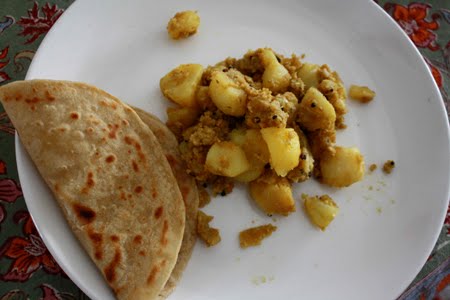 This article was last updated on April 16, 2022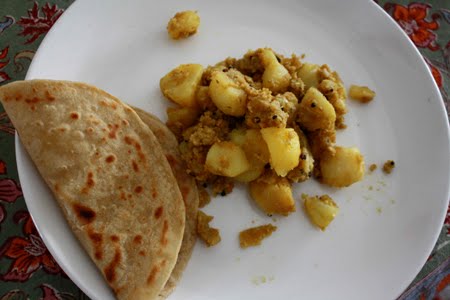 Potatoes with Poppy Seeds (Aloo Poshto)
Serves: 4
Cooking time (approx.): 22 minutes
Style: Indian Vegetarian (Bengali)
6 big potatoes peeled and cubed
2 tablespoon(s) poppy seeds (khus khus) roasted
3 whole dry red chilli(es)
3 green chilli(es)
½ teaspoon(s) turmeric powder
3 tablespoon(s) oil
½ cup(s) water
salt to taste
chopped fresh coriander to garnish
Grind the roasted poppy seeds along with the green chilli(es) and a few tablespoons of water to a very fine paste. Keep aside. Heat half of the oil in a pan for 2 minute(s) till very hot.
Shallow fry the cubed potatoes in batches on medium heat till they are lightly browned. Drain on a paper towel and keep aside.
Now, heat the remaining oil in the same pan. Add the whole dry red chilli(es) and turmeric powder. Fry briefly. To this, add the poppy seed paste and fry again on medium / low heat for 5 minutes till the oil has left the sides of the pan.
Add now the fried potato cubes and mix well. Add water and salt. Stir, cover and keep on low heat for 15 minutes till the potatoes are soft.
Garnish with chopped fresh coriander
Serve hot with: Subtly Tempered Rice (Nucchi), white rice or Indian bread (Roti).
You can publish this article on your website as long as you provide a link back to this page.