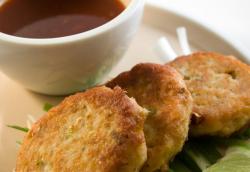 You can publish this article on your website as long as you provide a link back to this page.
This article was last updated on April 16, 2022

Fish Patties
Ingredients :
2 eggs, beaten
1/2 cup bread crumbs
Oil for frying
Mix together for the patties :
250 gms codfish, cooked and minced
2 potatoes, boiled and smashed
1 small onion, chopped finely.
1/2" inch ginger, grounded into paste
3 garlic flakes, grounded into paste
5 green chillies, chopped finely
1/2 tsp garam masala
1/4 tsp turmeric powder
1 tbsp coriander leaves
Salt as per taste
Method :
Add to the patties mixture ½ of beaten egg. Mix it well.
Make small rolls of the mixture and flatten it. Heat oil for frying.
Dip the patties in the remaining beaten egg. Roll it in the bread crumbs.
Deep fry till golden brown. Remove and drain it. Serve hot with wafers.