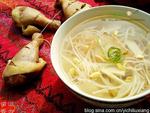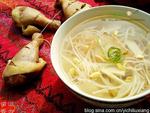 Winter Shrimps
Serves 4 to 6
Ingredients:
10 Egg whites
2 tsp cornstarch
½ tsp salt
½ tsp shelled shrimps
Vegetable oil for deep frying
¼ tsp MSG
2 oz. cooked chicken, ground
2 tbsp chives, chopped
Directions:
Beat 1 egg white, the cornstarch and salt together until they form a smooth paste. Arrange the shrimps in the paste and stir gently until they are coated.
Fill a large saucepan one third full with oil and heat until it reaches 185°C (360°F) on a deep-fat thermometer. Put the shrimps in a deep frying basket and carefully lower them into the oil. Fry for 1 minute. Remove from the oil and drain on paper towel. Set aside.
Beat the remaining egg whites with the MSG if you are using it, until they form stiff peaks. Pile half the mixture on a dish and arrange the shrimps over it. Using a spatula, gently and carefully spread the remaining egg white mixture over the shrimps.
Tilt the dish over the saucepan containing the hot oil and very carefully slide the egg and shrimp mixture into the oil. Fry the mixture for 3 minutes, basting the top with oil if it is not fully covered. Remove the pan from the heat and carefully lift out the mixture. Drain on paper towels, then transfer to a serving dish.