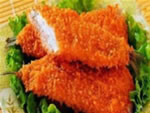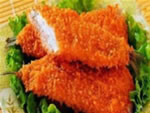 Fried Fish Fillets
Ingredients:
½ lbs fish fillets
2 tbsp wine
½ tsp salt
Dash pepper
1 tbsp cornstarch
1 egg white, beaten with 1 tbsp cornstarch
Oil for deep-frying
Directions:
Cut fish fillets into pieces 1 ½ inches long and ½ inch wide.
Sprinkle pieces first with wine, next with salt and pepper, and last with cornstarch.
Beat egg white, adding 1 tbsp cornstarch until mixture is stiff but not dry.
Heat oil, dip pieces of fish into egg white, and deep-fry until done. Do not allow egg-white coating to turn brown. Serve fish with salt and pepper.