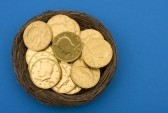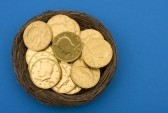 Coin Purse Egg
Ingredients:
6-8 tbsps oil
6 eggs
3 scallions, cut into 1 inch pieces
4 dried Chinese mushrooms, soaked for 20 minutes, drained, stemmed and quartered
1 cup canned bamboo shoots, cut into ¼ inch thick slices
1 cup water
2 tbsps soy sauce
1 tbsp dry sherry
2 tsps cornstarch, dissolved in 2 tbsps water
Directions:
Heat 1 tbsp of the oil in a pan. Break an egg into it and fry until the edges are set. Turn over carefully and fry the other side until the egg is completely set. Transfer to a serving plate and keep hot. Fry the remaining eggs in the same way, adding more oil to the pan as necessary.
Heat 2 tbsps oil in a pan. Add the scallions and stir fry until fragrant.
Add the mushrooms and bamboo shoots and stir fry for a few seconds.
Stir in the water, soy sauce and sherry and bring to the boil.
Add the cornstarch mixture and simmer, until thickened. Spoon the sauce over the eggs and serve hot.