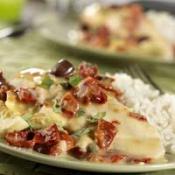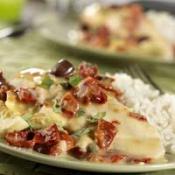 Rotolo of Veal
Ingredients:
1 1/4 lb. boned breast of veal
1/4 cup Olio Carli Extra Virgin olive oil
6 to 7 sage leaves
Salt and pepper
1/4 ham, not smoked
1/3 cup shelled peas
1/4 freshly grated Parmigiano Reggiano
1 whole egg
The juice of one lemon
Directions:
1• Rub the veal with one tablespoon olive oil. Sprinkle with salt and pepper.
2• Combine the sage leaves, chopped ham, peas, Parmigiano Reggiano and the egg and spread the mixture over the veal.
3• Roll up the meat tightly and fasten with string. Place the meat in a baking dish, pour over it the lemon juice and remaining olive oil and cook in preheated oven at 375 degrees for one hour or until tender at the pricking of a fork.
Serves 4 people.