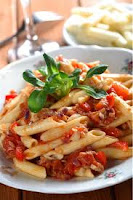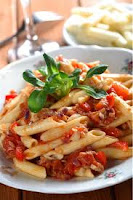 Tuna Tomato Pasta Sauce
Ingredients:
• 1 qt. of whole peeled tomatoes chopped medium, with juices
• 2 Tblsp. tomato paste
• 1/2 cup white wine
• 1/2 small onion, finely diced
• 1 tsp. garlic, finely minced
• 1/2 can anchovies, rinsed, dried and finely chopped (optional)
• Salt and freshly ground pepper
• 12 oz. can of tuna, drained
• 1 Tblsp. fresh minced basil or two bay leaves
• Red pepper flakes (optional)
• 1 lb, dried spaghetti or linguine
• 1/4 cup olive oil (or if using tuna in oil drain and save the oil from the can and make up the difference with olive oil)
Directions:
1• Warm 2 Tblsp. olive oil in a large sauté pan.
2• Add onions and garlic and sauté over medium heat until just softened, two to three minutes. If using anchovies, add them at this point.
3• Dissolve the tomato paste in the white wine in a small glass and set aside.
4• Add the crushed tomatoes to the onion/garlic/anchovy mixture and stir well, then add the wine/paste to this. If using water-packed tuna, add the other two Tblsp. olive oil. If using optional pepper flakes, add now.
5• Add herbs. Bring it all to a simmer, uncovered.
6• Add salt as needed.
7• Simmer until sauce is slightly thickened, enough to coat the pasta, about 15-20 minutes at a gentle simmer.
8• If using bay leaves remove them now.
9• Add the drained tuna, being careful not to break up the tuna too much. It should remain chunky. Let rest about five minutes off heat.
Meanwhile bring a large pot of salted water to the boil. Cook the pasta al dente. Drain well. When the sauce is ready, place pasta in a warm serving bowl, gently toss with the sauce and serve immediately.