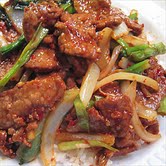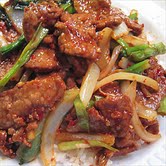 Mongolian Beef
Serves : 4
Ingredients:
1 lb. boneless beef, flank is good
3 tbsp. oil
2 cloves garlic, mashed
4 scallions, cut in 2″ lengths and slivered.
Marinade:
2 tsp. sugar
2 tsp. soy sauce
dash of white pepper
2 T. Sherry
Sauce:
2 tsp. Hoisin sauce
1/2 tsp. ketchup
2 tbsp. chicken broth or water
Directions:
Freeze beef 1 hr. before slicing. Slice meat across the grain in very
thin slices. Mix the marinade ingredients. Add sliced beef, and marinate 1/2 hr.
Heat wok, add oil and garlic. Stir fry 1 min. and discard the garlic.
Add beef and scallions. Stir fry 3 mins.
Add Hoisin sauce, ketchup, and chicken broth. Stir fry 1 more min.
Serve over rice.