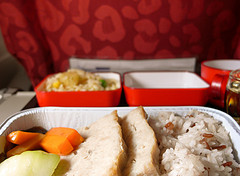 You can publish this article on your website as long as you provide a link back to this page.
This article was last updated on April 16, 2022

Fried Meat Cake
Ingredients:
½ lbs finely ground pork
¼ lb round or Chinese cabbage
1 stalk leek, chopped
1 tsp minced ginger
3 tbsp soy sauce
½ tsp salt
½ tsp MSG
1 tbsp wine
6 tbsp oil
2 eggs, beaten with ½ tsp salt
3 cups flour
1 ½ cups boiling water (vary according to quality of flour)
Oil for deep frying
Directions:
Heat 3 tbsp oil in frying pan and fry leek, ginger and ground pork. Add soy sauce, salt, MSG, and wine. Remove to a bowl.
Heat 3 more tbsp oil and fry beaten eggs. Break eggs into small pieces and add to meat mixture.
Wash cabbage and chop it fine. Sprinkle with salt and squeeze out water.
Add cabbage to meat and egg mixture and mix thoroughly to make filling for meat cakes.
Mix flour with boiling water and knead into a soft dough. Cover with damp cloth and allow to stand for 10 minutes before using.
Roll dough on board into a long sausage and cut into pieces about the size of a gold ball.
Sprinkle board with flour and roll each ball into a thin "pancake".
Place 2 tbsp filling mixture between 2 pancakes and pinch edges together.
Heat deep oil and fry meat cakes until light brown. Serve with soy sauce and ginger.