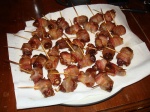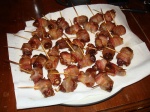 Date Crisps (Dessert)
Ingredients:
30 dates, pitted
30 walnuts halves
30 wonton skins
1 ½ tbsps brown sugar
Oil for deep frying
3 tbsps confectioners' sugar
Directions:
Fill each date with a walnut half. Place each date on a wonton skin and add a pinch of sugar. Moisten the edges of the skin, roll and seal by twisting the ends.
Heat the oil to 160°C/325°F. Deep-fry the rolls until golden brown; do not overcook.
Drain on absorbent kitchen paper and sprinkle with icing (confectioners') sugar. Allow to cool before serving as a dessert.