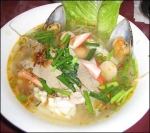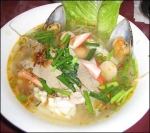 Seafood Vermicelli in Soup
Ingredients:
2 oz canned abalone
3 oz cooked shrimps
A pinch of pepper
2 oz frozen squids
1 tsp ginger juice
6 oz vermicelli
3 cups boiling water for soaking
1 cube chicken essence + 3 cups water
A few lettuce leaves
2 tbsp oil
1 slice ginger
Seasoning:
1 cup water
¼ tsp salt
2 tsp light soy
1 ½ tsp sugar
A pinch of pepper
¼ cube chicken essence
Gravy Mix:
2 tsp cornflour
2 tbsp water
A few drops dark soy
1 tsp sesame oil
Directions:
Slice the abalone into thin pieces. Shell the cooked shrimps and dredge each one with the pepper.
Defrost, wash and cut a crisscross pattern on the inside of the squids, then into bite-sized pieces. Marinate with the ginger juice for 30 minutes.
Soak the vermicelli in the boiling water for 1 hour. Refresh and drain. Dissolve the chicken cube in the water and bring it to boil in a 2 quart saucepan. Put in the vermicelli to cook for 1 minute till softened. Scoop into a big bowl and arrange the lettuce along the edge of the bowl.
Heat a pan with the oil and sauté the ginger and squids. Pour in the cup of water and the seasoning to bring to the boil. Thicken the sauce with the gravy mix then add the remaining ingredients to stir well. Remove the pan from the heat and pour over the vermicelli. Serve hot.