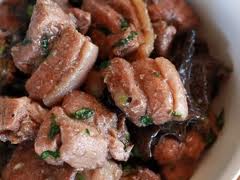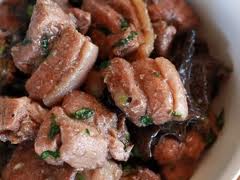 Hakka Fried Trotter
Ingredients:
600g trotter, cut into pieces
300g radish (white carrot)
1 tbsp sesame oil
1 pip garlic, chopped
30g ginger, crushed
2 tbsp rice wine
1 tbsp fermented soy bean
2 tbsp oyster sauce
2-3 cups water
30g palm sugar
Directions:
In a preheated wok, fry the trotter with sesame oil, garlic and crushed ginger.
Add the wine and fry further until it is dry.
Then add the fermented soy bean and oyster sauce. Fry until it is dry and fragrant.
Add the water and simmer for an hour before adding the radish.
Stew for another hour until the pork is tender and quite dry.
Add the palm sugar towards the last 15 minutes of stewing.