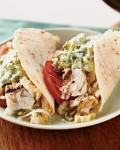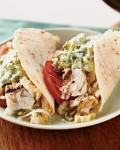 Light and Yummy Fish Tacos
Ingredients:
1 tablespoon olive oil
1/4 green cabbage
1 lb halibut fillets, skin removed or 1 lb another white fish fillet , your choice
1/4 cup chopped English cucumber
1/2 bunch cilantro , chopped
1/4 cup chopped white onion
1 lime, juice of
salt and pepper
guacamole (see Chunky Guacamole)
salsa (see Salsa Fresca Salsa Fresca)
10 corn tortillas , warmed (see Corn Tortillas)
Preparation:
Make the cabbage slaw: chiffonade cabbage, add onion, cucumber and cilantro; squeeze juice of 1 lime over the top and toss; add salt and pepper to taste; let sit at room for 30 minutes. Preheat oven to 400 degrees. Heat a non-stick oven proof pan over medium heat, add olive oil, add halibut and brown on one side, turn halibut over and put pan in the oven for about 10-15 minutes until halibut is flakey and cooked through. To serve: flake cooked halibut into a bowl and serve with warmed corn tortillas and the bowls of the cabbage slaw, guacamole and salsa.