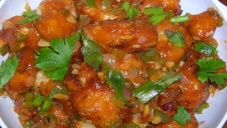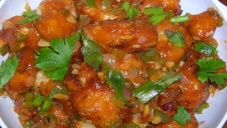 Cauliflower Beef with Garlic Sauce
Ingredients :
378g cauliflower
227g beef
4 cloves of garlic
Directions:
Cut cauliflower into flowerets. Wash and briefly blanch flowerets with hot water. Rinse with plenty of cold water. Drip dry and set aside.
Cut beef into small pieces measuring 2.5cm (length) x 1.5cm (breadth) x 0.5cm (thickness).
Peel garlic. Crush with a knife and chop finely. Place minced garlic in a bowl and rinse with water. (This way, the fragrance of minced garlic will come out.)
Sauté minced garlic in a wok. Add in beef to stir-fry briefly till half done. Add in cauliflower to stir-fry till done. Ready to serve.