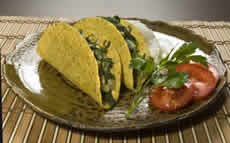 You can publish this article on your website as long as you provide a link back to this page.
This article was last updated on April 16, 2022

Chard Tacos
Ingredients
1 1/2 tablespoons olive oil
1 large onion, cut into 1/4-inch slices
3 cloves garlic, minced
1 tablespoon red pepper flakes, or to taste
1/2 cup chicken broth
1 bunch Swiss chard, tough stems removed and leaves cut crosswise into 1 1/2-inch slices
1 pinch salt
12 corn tortillas
1 cup crumbled queso fresco cheese
3/4 cup salsa
Directions
Heat the olive oil in a skillet over medium heat. Stir in the onion; cook and stir until the onion has softened and turned golden brown, about 10 minutes. Add the garlic and red pepper flakes, stirring until fragrant, about 1 minute. Stir in the chicken broth, Swiss chard, and salt. Cover and reduce heat to low. Simmer until chard is nearly tender, about 5 minutes. Remove lid and increase heat to medium, stirring until the liquid evaporates, about 5 minutes. Remove from heat and set aside.
Heat another skillet over medium-high heat. Warm the tortillas in the skillet for about 1 minute per side. Fill the warmed tortillas with the chard, and top with the queso fresco cheese and salsa.