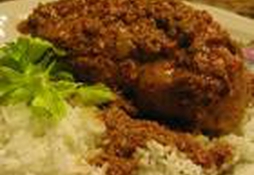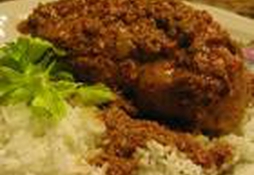 Chorizo Stuffed Chicken Breasts with Raspberry Mole
Ingredients
5 cloves garlic
1 bunch cilantro
1 green bell pepper, chopped
1 medium onion, chopped, divided
1 roma (plum) tomato, chopped
5 tablespoons olive oil, divided
1/4 cup raspberry jam
1/4 cup chipotle puree
3 roma (plum) tomatoes, chopped
1/4 cup orange juice
1/4 cup lime juice
1/2 cup milk
1 tablespoon mayonnaise
1 pinch unsweetened cocoa powder
4 (6 ounce) skinless, boneless chicken breast halves
4 tablespoons prepared guacamole
1/2 cup queso quesadilla cheese
1/4 pound chorizo sausage, casing removed and meat finely diced
Directions
Make a sofrito by combining the garlic, cilantro, green pepper, onion, 1 tomato, and 1 tablespoon olive oil in a food processor or blender. Puree until smooth. Transfer to a bowl and reserve.
Make the mole sauce by combining the raspberry jam, chipotle puree, remaining tomatoes, orange juice, lime juice, milk, mayonnaise, and cocoa powder in the food processor or blender. Puree until smooth.
Place chicken breasts between 2 layers of plastic wrap; pound to a thickness of 1/2 inch. Divide the guacamole, cheese, and chorizo evenly onto the center of each breast. Roll the chicken around the filling, and secure with toothpicks.
Combine the sofrito and remaining 4 tablespoons olive oil in a deep skillet over medium-high heat. Cook, stirring, until most of the liquid has evaporated. Add the chicken breasts, and cook until browned, 3 to 5 minutes per side. Pour the mole sauce into the pan, and lower the heat to medium-low. Cover, and cook for 1 hour, turning frequently. Serve the chicken with the thickened sauce spooned on top.